A major reason for building a country house has always been as a place to show off art. The art of collecting is still very much alive and Britain's historic houses are some of the best places to see contemporary art in context. Visit Heritage asked a few renowned collectors to explain what they do and pick out a favourite piece.
The Devonshire family's DNA
The Duke & Duchess of Devonshire are trustees of The Chatsworth House Preservation Trust and the 17th generation of the Cavendish family to live at Chatsworth, Derbyshire
Contemporary collecting has always been intrinsic to Chatsworth. Since the 17th century successive generations of my family have commissioned leading artists, as well as up-and-coming makers to add to the house and collection, and this is a tradition that continues today.
One of the most significant additions to the house in recent years is the site specific ceramic installation in the North Sketch Gallery, which opened in 2014. Created by ceramicist Jacob van der Beugel, the ceramic panelling on the walls of the gallery represents the present Devonshire family's DNA, in an unusual and creative take on the traditional portrait.
Outdoor sculpture has also become an important part of Chatsworth's cultural heritage. Our permanent contemporary collection featuring sculpture by Allen Jones, Barry Flanagan, Elizabeth Frink and Richard Long amongst others, sits alongside 18th-century marbles in the garden, creating a fascinating juxtaposition of old and new. In addition, each year Chatsworth hosts Sotheby's Beyond Limits, which presents a wide ranging selection of modern and contemporary monumental sculpture which encourages us and our visitors to view the landscape in a new and diverse ways.
<<The Duke and Duchess of Devonshire commissioned a series of ceramic panels from Jacob van der Beugel, a portrait of the family's DNA which demonstrates their long connection with Chatsworth and its collections>>
Simon Cunliffe-Lister's Mother Earth
Simon Cunliffe-Lister and his family live at Burton Agnes Hall, Yorkshire
Whilst my predecessor, Marcus Wickham-Boynton, was chastised in the 1960s for adding contemporary art into a collection otherwise dominated by old masters, I am grateful for the boldness of his taste. He brought many Impressionist and post-Impressionist treasures to Burton Agnes Hall, including pieces by Manet, Renoir, Cézanne, Gauguin, Derain and Augustus John. In my opinion, there is no better environment to appreciate the wonders of contemporary art than a well-tended historic house, which offers an assortment of aesthetic experiences and art forms. From the grand drama of Anish Kapoor's work in the baroque gardens of the Palace of Versailles, to the mercurial light sculptures of James Turrell at Georgian Houghton Hall, stately homes can mix past and present in intriguing and inspiring ways.
At Burton Agnes, contemporary work collected by my mother and myself sit happily alongside older pieces, and I feel that each benefit from the surprising juxtaposition. Many newer pieces are displayed in the Long Gallery, a magnificent room spanning the width of the house. My first commission sits here: a stunning glass sculpture by Gloucestershire-based Colin Reid incorporating an impression of Mother Earth from our Gatehouse, whose internal reflections and optical effects are enhanced by this light-flooded room. Our newest addition is a water sculpture by Giles Rayner (below), a thrilling commission of a huge, sinuous metal sphere in our classical pond. With its gentle, spinning movement and softly falling water, the piece delights the senses. We hope to continue the traditional role as patron of the arts, as we collect pieces for future generations to enjoy, and the house and its art evolve together.
<<Giles Rayner's sphere complements the formal lines of the pond and the roofline of the house.>>
Tom Freshwater's Distant Drumbeats
Tom Freshwater is Contemporary Arts Programme Manager at the National Trust for England and Wales
The Trust New Art programme is a joint initiative between the National Trust and Arts Council England which began in 2009. We see it as a way of achieving two very distinct ambitions.
Experiencing heritage places through the lens of contemporary art can change people's perceptions of places. The art project at Fountains Abbey and Studley Royal, which runs for three years, typifies this approach. Folly! Is a series of collaborative installations by opera designers, Gary McCann and Simon Costin, and visual artist, Irene Brown. The massive ruins of Fountains Abbey dominate the site and are the first feature that confronts visitors when they leave the visitor centre. We found that many of our visitors never got any further and failed to appreciate the wonderful 18th century landscape garden into which the ruins are incorporated. The playful character of the installations based around the follies give people a reason to explore the environment and for many people the discovery of this ornamental landscape has been a revelation.
We also want to attract people who are not our mainstream audience. At Mottisfont in Hampshire, the important 20th century art collection of one time owner Maud Russell was originally hung in a congested display in a corridor. The opening of the top floor rooms as a dedicated gallery space has allowed a rehang alongside a series of curated shows of contemporary works. As a result, more people are visiting more regularly, either to see a new art display or taking the opportunity to approach the Mottisfont story differently.
My personal choice has to be at Lyme Park in Manchester where Sean Griffiths, formerly of FAT Architecture, created an interactive piece which framed the distant lantern folly from the lawn beside the house. Distant Drum Beat uses innovative computerised microwave technology to light up the top of the folly. Kids love it and our older visitors can't resist sidling up to have a go.
The National Trust promises to keep special places for everyone forever, so this temporary contemporary art programme works better for us than commissioning new art for permanent exhibition. We want to inspire more people to visit and changing contemporary art exhibitions create a sense that you must visit now in case you miss it.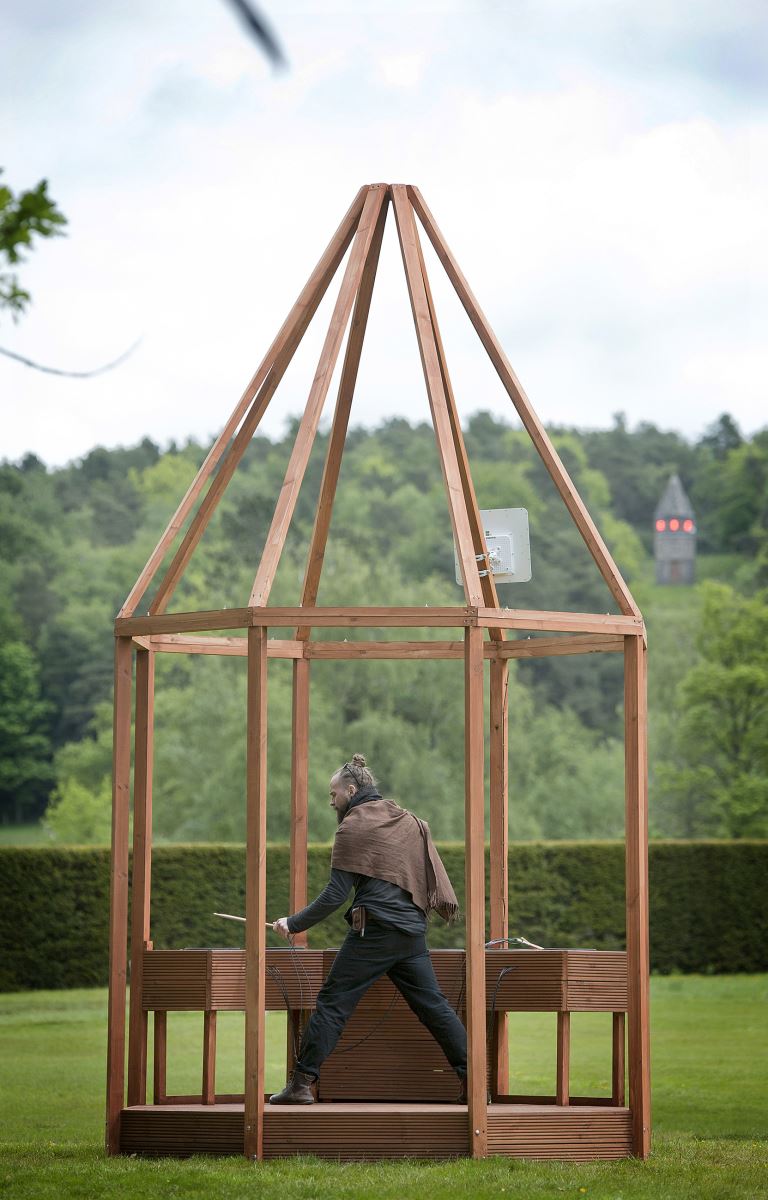 Distant Drum Beat by Sean Griffiths © Emma Williams
Miranda Rock's 20th Century Head transform:rotate(90deg);
Miranda Rock is the director of The Burghley House Preservation Trust and a descendant of William Cecil, Queen Elizabeth's chief minister and the builder of the house.
The Sculpture Garden at Burghley was established in 1995, with just a few pieces that formed the beginnings of the core collection. In addition, we hold an annual, curated exhibition comprising loaned pieces or site-specific commissions. From quite humble beginnings, the sculpture garden has become one of the most popular elements of a visit to Burghley and along with the Garden of Surprises these annual exhibitions are the main attraction for our regular visitors.
The appeal of the country house is diverse, ranging through enthusiasm for historic buildings and interiors, general history, gardens, parkland and landscape and we must make every effort to engage with all of these audiences. For some, the enjoyment of sculpture outdoors is less challenging than a visit to the house itself, or simply provides a dynamic contrast with the historic interiors, while for others, such as our school groups, it offers a great opportunity to engage with a diverse range of materials and techniques not found inside the historic building, and to consider the relationship of contemporary art to its environment. Placing sculpture in lovely gardens and parkland is a wonderful way to make modern art available and accessible to new audiences who might not normally visit a contemporary art gallery.
My favourite piece at Burghley is probably 20th Century Head, 2002, by Rick Kirby. It is made from mild steel quite crudely welded onto a framework that gives a ghostly outline. We actually have two slightly different versions of this piece and they have been placed in various different locations. We have one set across a gully above the cascade or outlet for the lake. It is not that easy to spot, so the first glimpse is quite a surprise, the empty eyes are a little haunting and the sparsely placed steel sections make it look as if it is quietly decaying into the landscape. It is also unreachable, which only adds to its quiet but powerful presence. I like sculpture on a big scale and this sits very well and holds its own in a mature area of planting.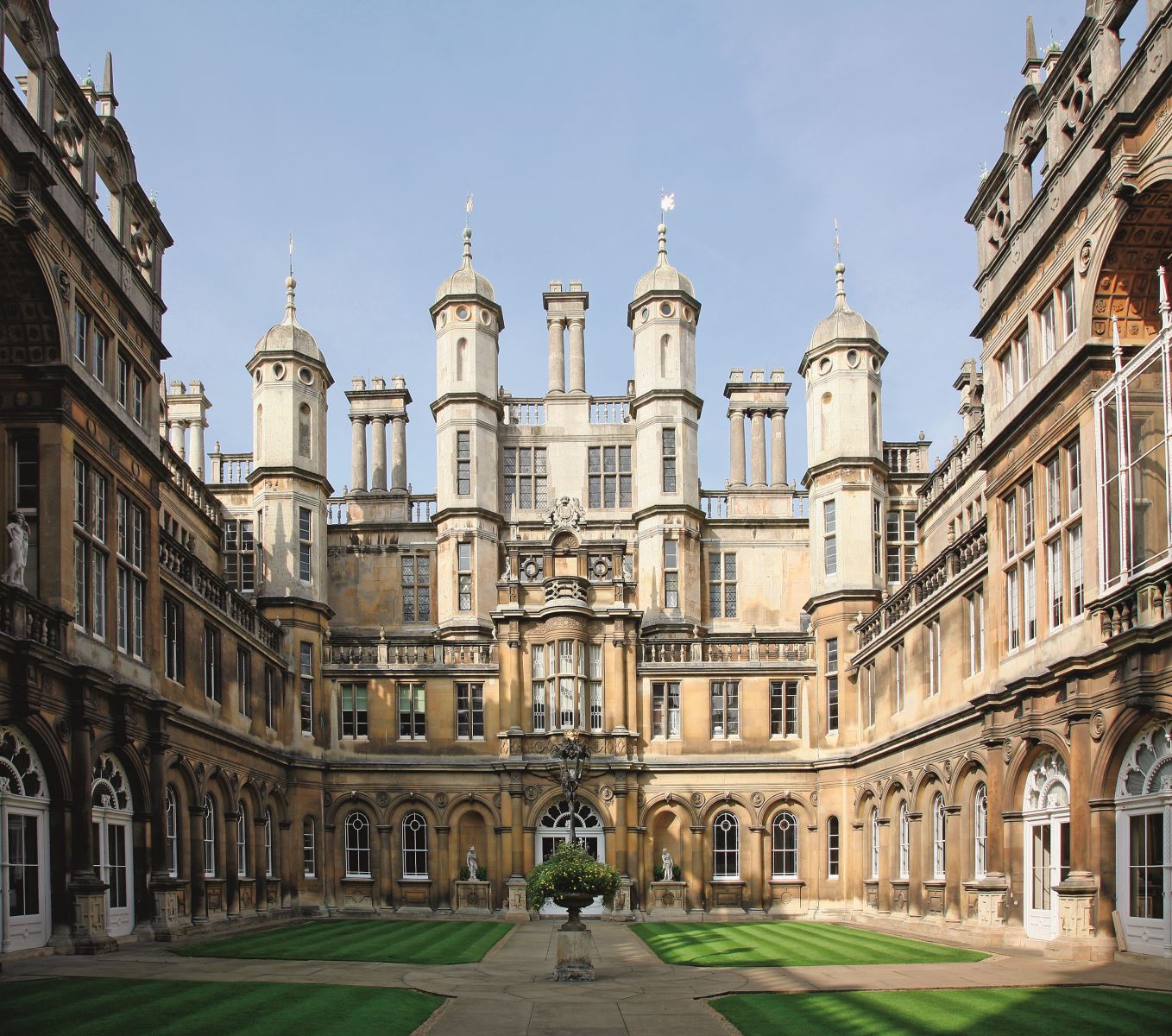 Burghley Courtyard
The Countess of Harewood's Terrace Gallery
The Countess of Harewood is a trustee of The Harewood House Trust, a professional art curator and lives at Harewood House, West Yorkshire
We opened our contemporary art gallery here, The Terrace Gallery, in 1989. At the time it was unique, there were no other reference points then for showing contemporary art in historic locations. In some ways it was a very new and radical idea but to us it was also part of a continuum of working with contemporary artists, Turner and Girtin were young, emerging artists in their early twenties when they were commissioned to work at Harewood in the 1790s.
Over the past twenty-six years we've staged literally hundreds of exhibitions, projects and events here, not only in the Terrace Gallery but also throughout Harewood House, in All Saints' Church and in the gardens and landscape, all under the banner of Harewood Contemporary. The programme has been a platform for some of the most exciting and challenging artists of our time and we've worked with a very wide range of artists at different stages of their careers. It would be difficult for me to choose just one work that I feel adds most to the house as I work with so many artists and have many favourite artworks, but the Terrace Gallery space sums up all that we are continuing to achieve.
Many heritage sites have now embraced the idea of showing the work of contemporary artists alongside their historical collections and this has created a very exciting environment for the arts in this country.
Antony Gormley in the Terrace Gallery
Peter de Sausmarez' Moore Music
Peter de Sausmarez is the hereditary Seigneur of Sausmarez Manor in Guernsey and a Director of The ArtPark.
Sculpture was an idea that was thrust at me by a chance remark by builder, later to become a partner in the business and friend. He said that he thought the gardens at Sausmarez Manor would make an ideal sculpture path, set amongst the jungle of the wild subtropical garden. He was mad of course, however after a lot of thought and several setbacks, I had a go.
It is odd now looking back to think that this was the first sculpture park set up in the grounds of an historic house open to the public. It was too new an idea for a lot of artists. It really wasn't until John Mills, then President of the Royal British Society of Sculptors, came out to Guernsey, that things really got under way. He pronounced that "the bamboos would be an ideal setting", that he would launch the idea by loaning work and that I could quote him to doubters. I must hasten to add that already sculptors Ev Meynell and Guy Portelli had volunteered a goodish selection, they having the advantage of having seen the gardens. They were invaluable in the way that they introduced & encouraged such artists as Philip Jackson, David Begbie, Nick Fiddian-Green, Lorne McKean, Jilly Sutton and other members of the Surrey Sculpture Society.
The sculpture park, now called The ArtPark, was always conceived as a way not only to bring sculpture to a wider audience and enhance the gardens at Sausmarez but also to be a commercial venture, finding new patrons for sculptors among the visitors to the gardens. Now we can review some notable sales. Half a dozen sculptures have gone to a collector in New Zealand, others to collections in Kent and Hampshire and even to a council house in the south of England. We aim to make sculpture as accessible as possible and now it can be bought direct from the ArtPark and online via our website. The opening of each year's new Sculpture Festival in May continues to be a magnet to collectors and to inspire would-be sculpture park proprietors from all over the world. Meanwhile, visitors to the subtropical gardens at Sausmarez at all times of year can enjoy sculptures in The ArtPark set off by our exotic plants.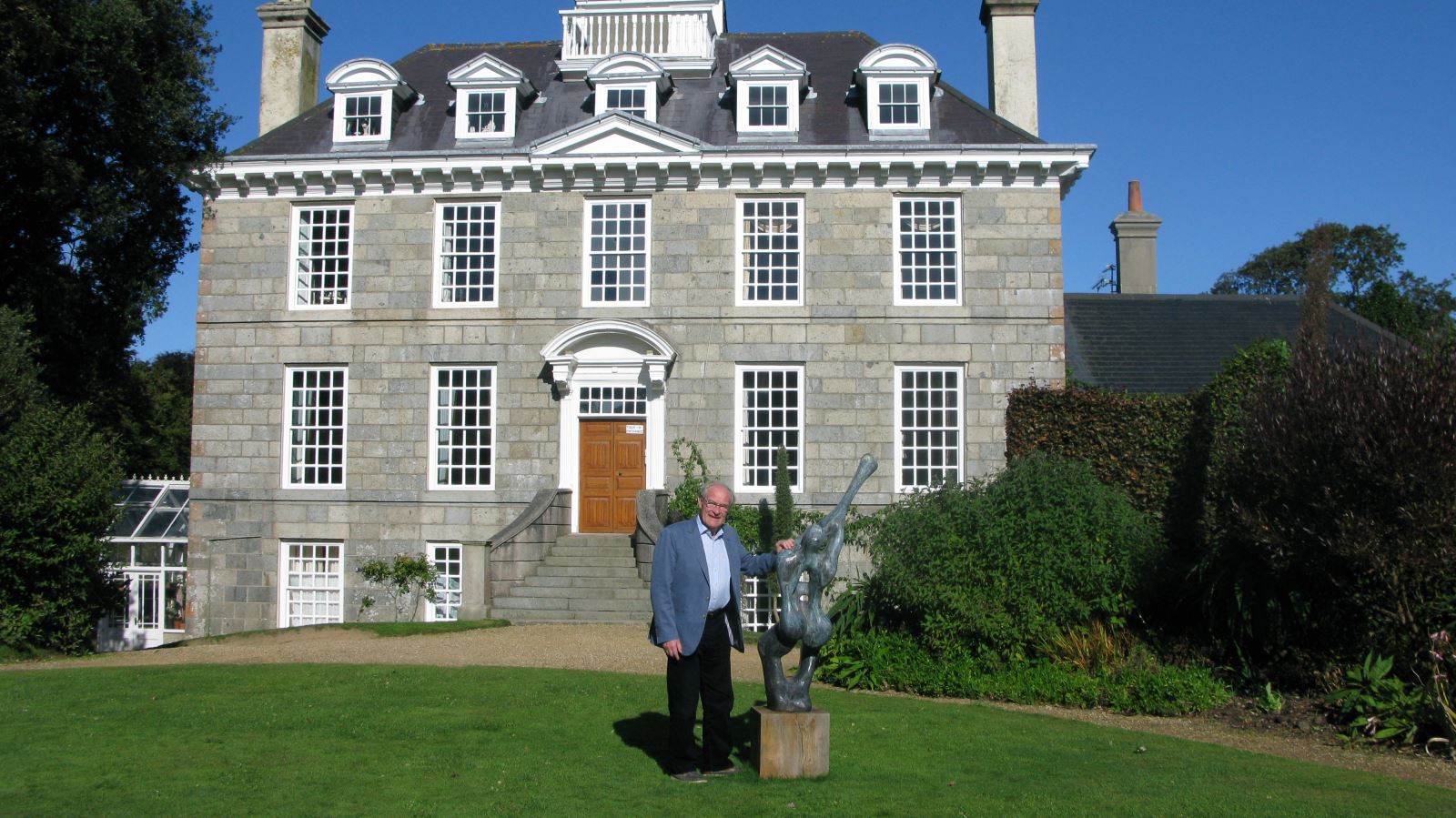 If you want to read more like this, join us as a Visit Heritage Member to receive the latest issue of our quarterly supplement Time Traveller - the new issue is all about art!

Related
0 Comments