If you're taking part in any of the Heritage Open Days that are taking place across England this year, you'll have noticed that the theme is Edible England and there is a real focus on heritage means of food and drink production as well as local delicacies. To get you in the spirit of the event and to tempt your tastebuds, here are a few of the nation's heritage dishes for you to discover!
Scotland
Shortbread
Loved throughout Britain, shortbread originated in Scotland. In fact, Campbell's Bakery in Callander in the Highlands has been known internationally for producing shortbread since the 1800s!
Aberdeen Angus
According to stats, Aberdeen Angus beef is Britain's favourite and is used in roasts, steakhouses and restaurants all over the nation.
Arbroath Smokies
Though most popular in Arboarth Harbour, this salted and smoked line caught haddock is a favourite throughout Scotland.
Haggis
Probably the most famous delicacy to come from Scotland, this is the country's national dish and is traditionally served with neeps and tatties on Burn's Night.
Tablet
If you like fudge, you'll love traditional Scottish Tablet. This is much crumblier than the fudge you might recognise and comes in a variety of flavours. Border Tablet in Longholm is one of the most well known producers.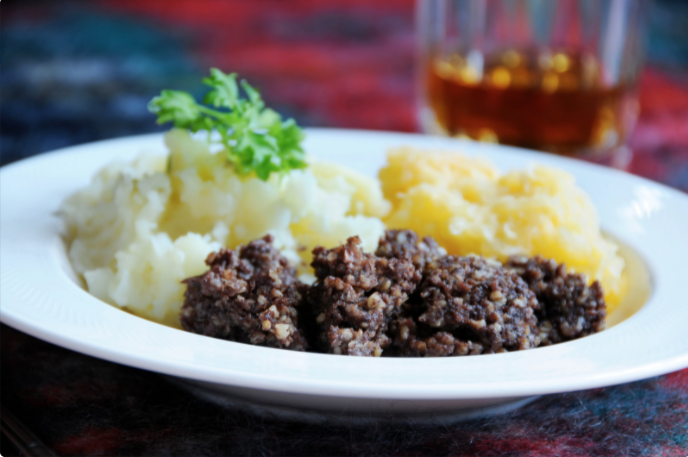 Image: Haggis
England
Craster Kippers
Craster is located on the Northumbrian coast and is famous for their kippers. Robson's Smoke House has been producing oak smoked kippers for over 100 years.
Singin' Hinny
Another delicacy from the Northumberland region is the Singin' Hinny, a griddle cake that is made with currents and can still be found in cafes in the region.
Pan Haggerty
Northumberland is full of strangely named foods, this is a veggie winter warmer that includes potatoes, butter, cheese and pepper and goes with meat or fish.
Cumberland Sausages
These long coiled sausages were granted protected geographical status in 2011!
Grasmere Gingerbread
Though gingerbread is popular everywhere, it is said that the best gingerbread in the world comes from this village in the Lake District. It has been made there since the 1850s and the recipe is a secret.
Wensleydale Cheese
A favourite of Wallace and Gromit, the cheese comes from the Wensleydale Creamery in Yorkshire and there are actually several varieties.
Woof and Chips
Yes you did read that right, this is like the kind of fish and chips you're more familiar with but done the Scarborough way. Rather than cod, Woof and Chips uses Wolf Fish, a type of catfish.
Yorkshire Pudding
It isn't a roast without a few Yorkshire puddings. They originated in Yorkshire and now there is a festival in honour of them held every year in Leeds.
Bakewell Pudding
Bakewell Pudding is a mix of pastry, jam, custard and almonds and originated in the town of Bakewell in Derbyshire. The pudding first made its appearance during the the 1800s.
Scouse Stew
Liverpool is famous for stew, so make sure to try a real Scouse Stew next time you're in the city.
Lincolnshire Sausages
The Brits love their sausages, this one is different to a Cumberland or a Glamorgan because of the herbs.
Pyclets
These look a little like crumpets and have been served in Derby since 1864.
Cromer Crab
The crab caught in the town of Cromer in Norfolk is said to be the tastiest in the UK.
Pork Pies
While you'll find them everywhere, there is nowhere that does a pork pie quite like Melton Mowbray in Leicestershire. The Dickinson and Morris Ye Olde Pork Pie Shoppe has been selling them since 1851.
Balti
Yes it is influenced by India, but after first arriving in 1977, Balti houses are incredibly popular in Birmingham.
Stilton
Stilton cheese has protected status and as such can only be made in Derbyshire, Leicestershire and Nottinghamshire.
Bedfordshire Clanger
This treat is kind of like a sausage roll, but with a sweet end! It is dinner and dessert in one.
Eton Mess
This dessert is said to originate from Eton College in Berkshire, it is made up of whipped cream, meringue and strawberries.
Scotch Eggs
Fortnum and Mason claims to have invented this snack back in the 1730s.
Pie and Mash
Another London based treat only this one is a cockney favourite. Pie and Mash shops were a staple in London's East End, you couldn't have pie and mas without liquor – just don't ask what's in it.
Bath Bunns
Created by Sally Lunn's Historic Eating Houses, which can be found in one of the oldest buildings in Bath. They were apparently Jane Austen's favourite.
Whitstable Oysters
Whitstable is famous for their oysters which are now available world wide.
Cheddar Cheese
This cheese is matured in ancient caves located at Cheddar Gorge in Somerset.
Cream Tea
There is some debate over which way you are supposed to eat a cream tea, a real Devonshire Cream Tea insists that the cream should go on the scone first followed by the jam, while in Cornwall, they eat it the other way around.
Sussex Pond Pudding
This traditional winter dessert from Sussex is named because of the way it forms a pond on the plate. It involves a lemon, some butter and some sugar.
Rye Scallops
Scallops from Rye Bay in Sussex are well known as the best in the UK.
Cornish Pasty
Again there is some debate over these, were they made in Devon or Cornwall? Either way, they have been granted geographical status.
Stargazy Pie
Another Cornish delicacy, this pie features pilchards, eggs and potatoes topped with a pastry crust and is traditionally eaten on 23rd December to commemorate a local man, Tom Bawcock, who landed a catch of fish during a famine.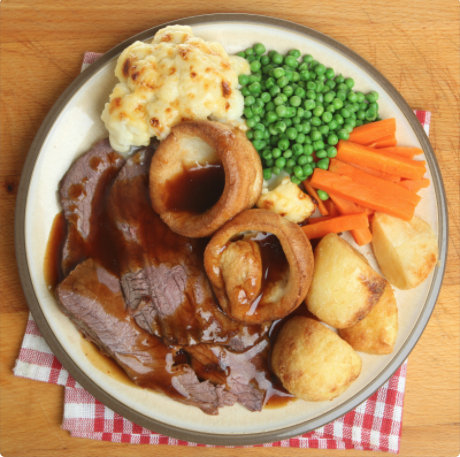 Image: Yorkshire Pudding on a roast beef dinner.
Wales
Rarebit
Known as the Welsh national dish, this is cheese on toast taken up a level.
Glamorgan Sausages
Another sausage! These ones are vegetarian and feature cheese and leeks among other vegetables.
Welsh Cakes
Much like a drop scone, Welsh Cakes are spicy and fruity and make a great treat with a cup of tea.
Caerphilly Cheese
This is a crumbly white cheese that is incredibly popular in south Wales – make sure to try it while you're there.

Image: Welsh cakes
Related
0 Comments