Britain is a marvellously fertile place. Our latitude gives us four distinct seasons, plentiful rainfall and long summer days. The Gulf Stream protects us from continental extremes and our geology gives us soils of boundless variety.
We have a heritage of gardens filled with plants from all over the world, adapted to conditions in the UK and hybridised into many varieties. Next time you stroll through a British garden, ask about the planthunters who first brought the plants we consider essential garden friends.
The earliest planthunters were probably the John Tradescants, father and son, who are buried at St Mary's-at-Lambeth, now The Garden Museum. The Elder (1570-1638) travelled to the Low Countries, Russia, the Levant and Paris for his employer, the Duke of Buckingham, importing tulips and fruit trees. The Younger (1608 -1662) journeyed to the colony of Virginia in the 1620s. He brought back the first magnolia, tulip tree, phloxes and asters and started a trend; by the 1630s, more than 100 North American species of tree were being grown in England. After Tradescant, John Bartram (1699-1777) brought 300 plants from the American interior, part of his legacy survives at Painshill in Surrey.
As British sailors continued to explore the world, so the horizons of garden plants expanded. Joseph Banks (1743-1820) accompanied Captain Cook to Australia in 1770, finding a whole new flora. His influence was really felt when, establishing the new Royal Botanic Gardens at Kew, he sent out botanists to collect plants. He personally introduced us to eucalyptus and acacia and 80 species of plants bear his name. His earliest planthunter, Francis Masson (1741-1805), brought the first plants from South Africa in 1775, bringing us cycads and geraniums from the flower-rich meadows of Namaqualand and starting a craze for Cape plants in British gardens. In the 1790s, Archibald Menzies (1754-1842) discovered the Douglas Fir in Canada and the Monkey Puzzle tree in Chile. The name took root at Pencarrow Gardens in Cornwall, when a visitor to the garden in the 1850s joked that its spiky appearance would "puzzle a monkey" and it stuck.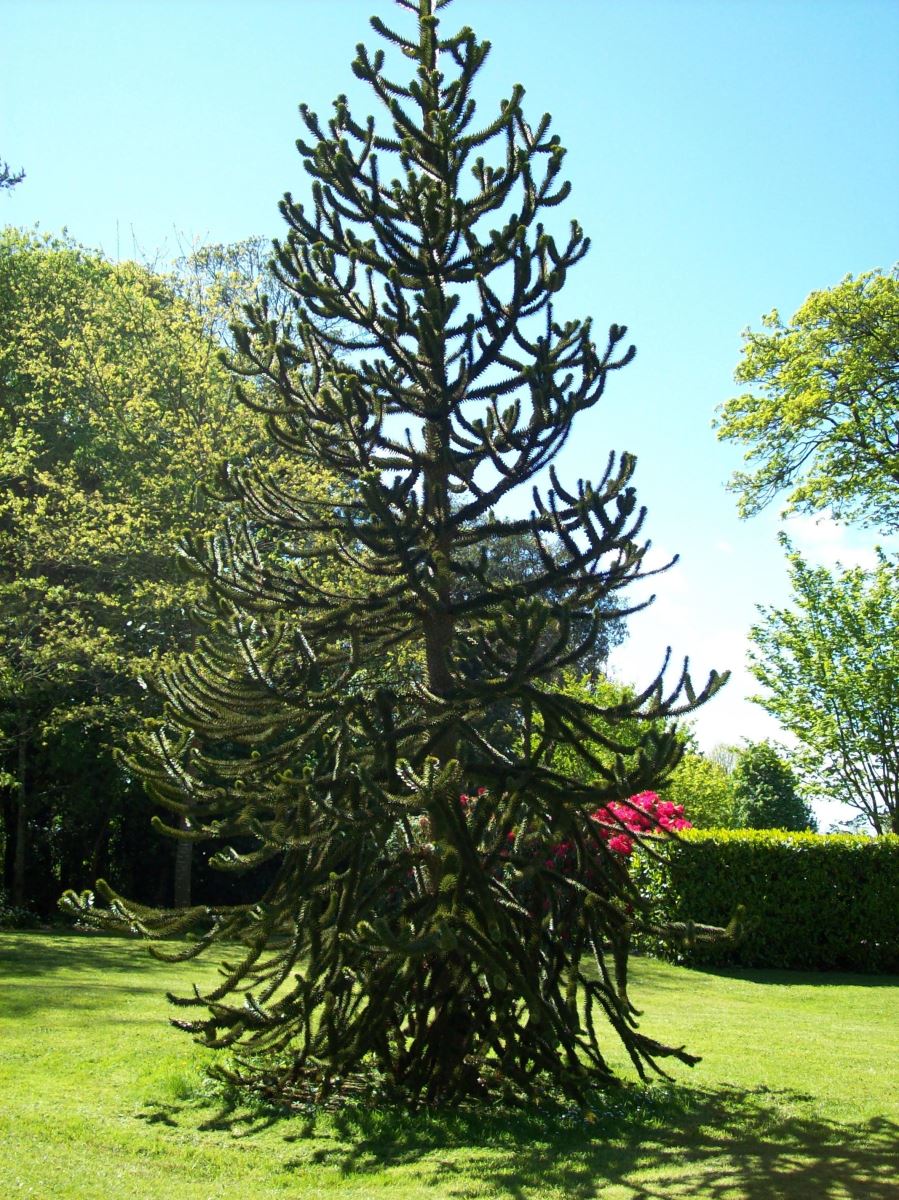 (Monkey Puzzle Tree at Pencarrow)
Planthunting took off in the 1800s, partly under the patronage of father and son Directors of Kew, William (1785–1865) and Joseph Dalton Hooker (1817–1911). It was Hooker Junior who brought the first rhododendrons from the Himalayas and brought colour to the understory of woodland gardens. Intrepid David Douglas (1779-1834), who popularised the Douglas Fir, brought home California poppies, lupins and flowering currants, travelling through the Americas in the 1820s. He was followed by William Lobb (1809- 1864), who brought the iconic Giant Sequoia to British gardens, called Wellingtonia by Hooker, and soon an essential for any landowner. Most famous of all, perhaps, was Robert Fortune (1812-1880) who (in Chinese disguise) smuggled tea seedlings from China to British India, thereby starting a new industry while bringing gardeners euonymous, hostas and mahonias.
(Himalayan Rhododendrons in Ray Wood, Castle Howard)
As China opened up, planthunters followed. George Forrest (1873-1932) is credited with 31,000 introductions, bringing rhododendrons, camellias, pieris and primulas from China, Tibet and Taiwan. Equally prolific was Ernest 'Chinese' Wilson (1876 – 1930), from whose introductions the Williamsii magnolias at Caerhays Castle were bred. He introduced Japanese azaleas, Chinese lilies and the Handkerchief Tree (Davidia Involucrata). Robert Farrer (1880-1920) popularised Japanese rock gardens in the UK and varieties of viburnum, rhododendron, geranium and allium carry his name. Frank Kingdon Ward (1885-1958) searched Tibet for varieties of the elusive Himalayan blue poppy (Meconopsis), which grows today at Borde Hill Gardens in Sussex and Dalemain in Cumbria and introduced many new species of rhododendron.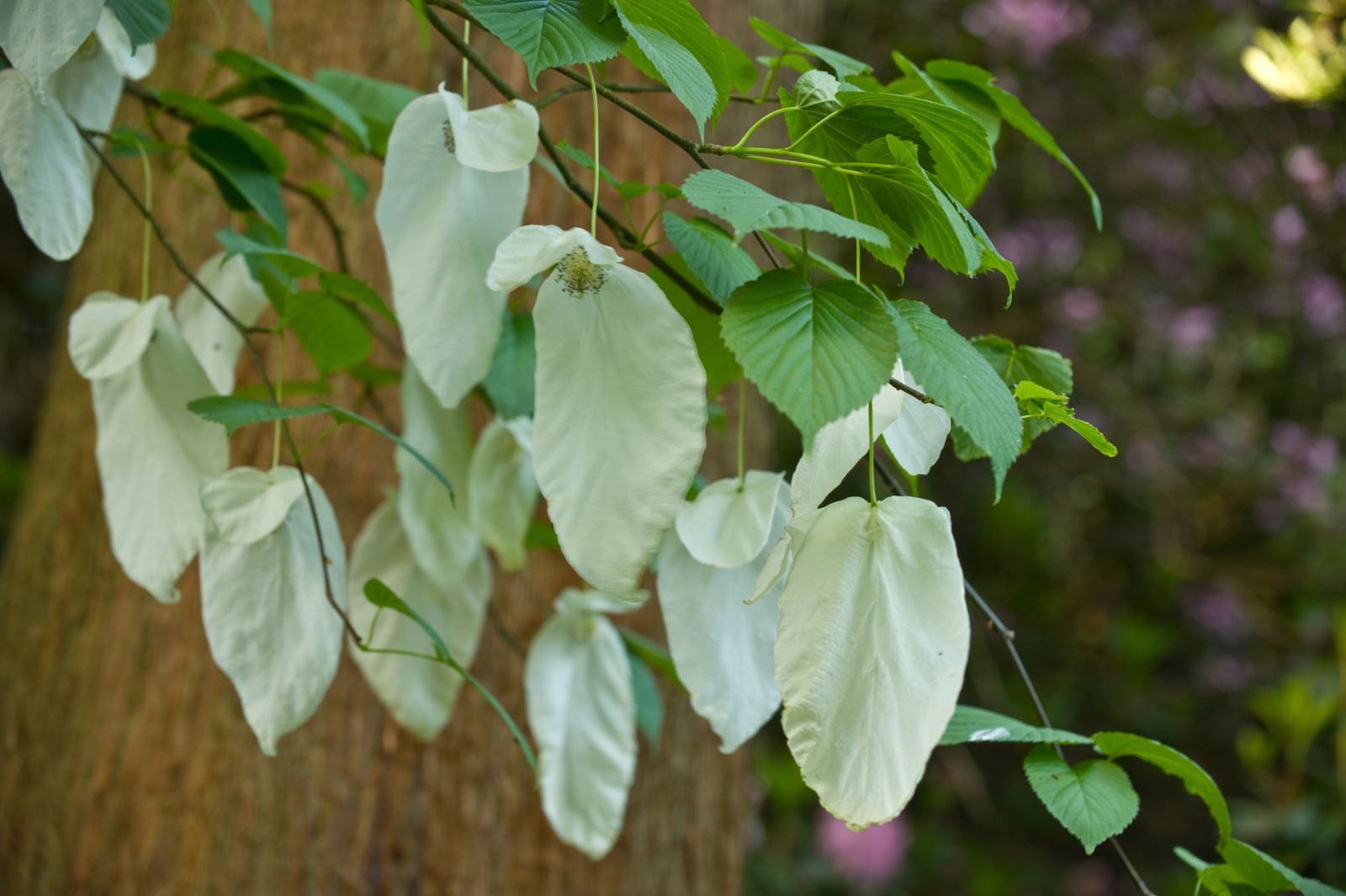 (Handkerchief Tree at Borde Hill Gardens)
This was not a safe occupation, Francis Masson survived a French prison only to lose everything in a hurricane in St Lucia. David Douglas fell into a pit and was gored to death by a Hawaiian bull that had got there first. George Forrest was the only survivor of his expedition of 18 during the 1905 Tibetan Rebellion. Ernest Wilson's leg was crushed when a rockfall destroyed his sedan chair in China. Frank Kingdon Ward survived a tree falling on his tent and avoided being swept over a precipice by clinging to a tree. More recently, Tom Hart-Dyke (1976-) dreamed up The World Garden for his home at Lullingstone Castle in Kent while a hostage of Farc rebels encountered on an orchid hunting expedition in Columbia in 2000.
The Latin names of garden varieties are often the clue to the plucky pioneer who first introduced them, braving storm, war, earthquakes, wild animals and hostile locals, often dying far from home. Thanks to them, we can enjoy some of the most exciting and varied gardens on the globe.
This article was first published in our member's magazine Time Traveller in April 2018.
Find out more about membership here: Membership
Find out more about past Time Travellers here: Visit Heritage Shop
Related
0 Comments