A technicoloured cow sculpture made by television personality and artist Kev Paxton of ArtFe is being auctioned in aid of NHS Charities.
Florence, a rainbow Highland Coo, was initially commissioned by nurses at the Sick Kids hospital in Edinburgh in remembrance of a colleague who passed away in 2017.
But ArtFe and the nurses at Sick Kids felt that Flo, as she's affectionately known, could do her bit to moo-ve others and help raise vital funds for NHS Charities during the Covid-19 pandemic by being auctioned.
The rainbow coo sculpture auction was launched to coincide with Chelsea Flower Show which is currently being held virtually and where ArtFe were due to be exhibiting.
It took place at Bamburgh Castle in Northumberland which was bought and rebuilt in the 19th century by philanthropist William George Armstrong who made donations to hospitals including Newcastle's Royal Victoria Infirmary. After his death in 1900, his heir and great nephew William Watson Armstrong gave the equivalent of £11 million to the rebuilding of the RVI.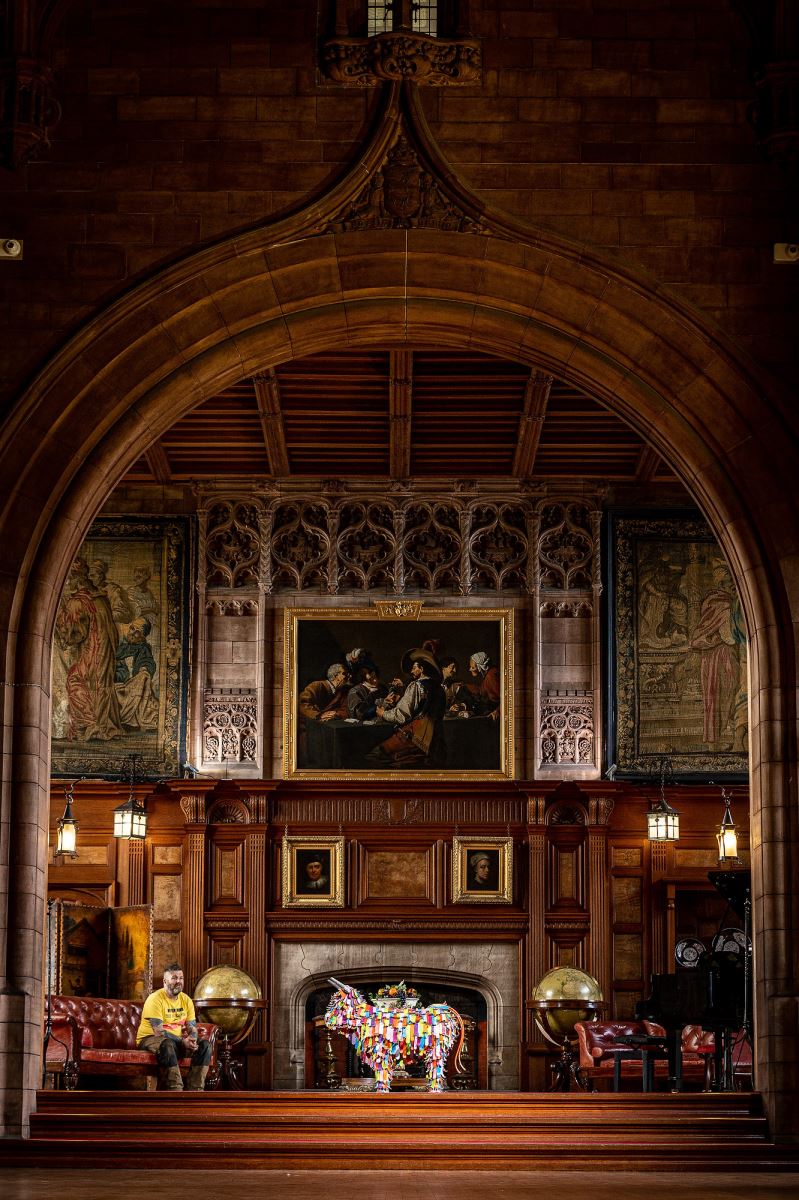 Herd it here first: Florence the rainbow coo who is being auctioned for NHS Charities with sculptor and television personality Kev Paxton of ArtFe at Bamburgh Castle in Northumberland. © Charlotte Graham Photography
Catherine Stops of Edinburgh-based ArtFe said: "Flo represents all of the care and commitment, the good will and positive energy that the NHS have shown in the last few months. It's a very uplifting piece. It makes people smile and she's rainbow coloured, the symbol of support for people wanting to show solidarity with NHS staff on the front line.
"I'm sure Flo will make a fantastic addition to someone's garden or home and bring them colour all year round."
"We chose to coincide the launch of our rainbow coo sculpture auction with Chelsea Flower Show – we are missing everyone there and being there this year. There's every chance a piece like Florence will end up in someone's garden giving year-round colour and happiness."
Florence, who is described as being the size of a 'fat Labrador', was hand forged by Kev, who leads ArtFe's team of Scottish artist blacksmiths and regularly stars on the BBC1 show Money for Nothing.
Made of mild steel using centuries-old blacksmithing skills in an 'old school' Smiddy, it took Kev over 60 hours to create Flo, who is one of ArtFe's Rock'n'Roll Herd of Fame who are out at pasture all over the world. A graffiti artist then spray painted each individual piece of metal to give Flo her technicolour makeover.
© Charlotte Graham Photography
The Rainbow Coo Sculpture auction will run for the duration of the virtual Chelsea Flower Show ending on Saturday 23rd May at 6pm. To find out more or place a bid visit: https://www.givergy.com/listing/nhs-charities-together/Rainbow-coo-sculptur
Related
0 Comments