Magnificent Alnwick Castle in Northumberland, famous for its starring role as Hogwarts School of Witchcraft and Wizardry in the Harry Potter films, is urgently looking for former Newcastle Church High School girls who were evacuated there between 1940 – 1945.
So, if you, or your mother, aunt, grandmother or great grandmother was at school in Alnwick Castle during World War II, please get in touch with Daniel Watkins, State Room Manager at the Castle*.
As many "old girls" as possible are invited to visit the Castle for a special day to include afternoon tea, entertainment and an exclusive tour on Thursday 7th May 2020 – to mark the big VE Day 75th Anniversary the next day - Friday 8th May. 2020 also marks the 80th anniversary of when the schoolgirls arrived at Alnwick Castle, which makes it a doubly important occasion.
This grand reunion at the Castle will be a wonderful opportunity to catch up with old friends, reminisce and relive fun times. Carers can also be welcomed.
Daniel Watkins says: "The 75th anniversary of VE Day will be a very important national occasion, and for us at Alnwick Castle, the 80th anniversary of evacuees arriving from Newcastle Church High School makes 2020 a doubly significant year. We believe it has been several decades since the last time the evacuees were reunited in Alnwick, and we aim to track down as many of them as possible for what we hope will be a truly special day."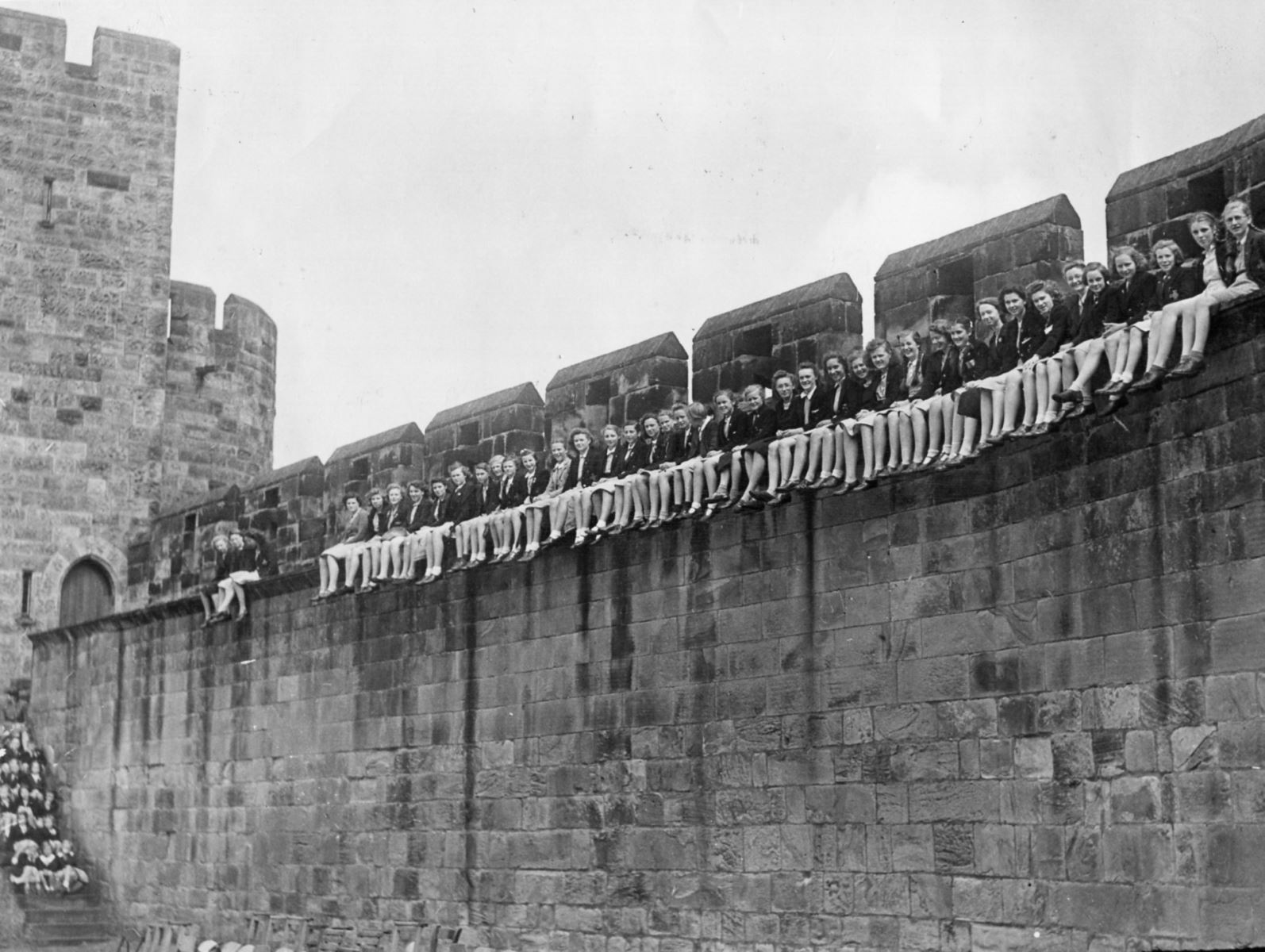 Pupils on the school wall at Alnwick Castle 1940-1945 - Images by kind permission of the former Newcastle Church High School (now Newcastle High School for Girls)
Read more about school life at Alnwick Castle here:
In 1939, Church High School in Newcastle functioned as both a boarding and a day school with 220 pupils. Due to the threat from wartime bombing raids in Newcastle, the rural, market town of Alnwick, 30 miles away, was considered far safer for children. The imposing, stone-built medieval Alnwick Castle which dates from the 13th century, was kitted out for 120 boarders plus 20 staff, while other pupils were billeted with local Alnwick families.
All ages of Newcastle school pupils were evacuated to Alnwick Castle. The youngest child was four years of age and the eldest 17. During the Second World War, Alnwick Castle became the school's main base and address. Other than the Duke's housekeeper and head gardener, who stayed behind when the Percy family moved out to the nearby Northumberland village of Lesbury, it was entirely staffed by Church High School's teaching and domestic staff.
All the grand Alnwick Castle furniture was stored in the State Rooms, leaving the largest rooms to serve as dormitories. The furniture for each girl's sleeping arrangements was provided by her family. The Percy family's beautiful private chapel was left for the school's evening use and the large billiard and smoking rooms on the first floor were left furnished for use as staff common rooms. The morning room, furnished grandly in mahogany with red brocade and lined with Percy family portraits, became the Headmistress' Office.
Day pupils lived in Alnwick (either with their own families or in billets) but the largest proportion of pupils and teachers boarded at the Castle. The dormitories were situated on the first floor and some were in the Castle towers.
Prayers were held every morning at 9.15 am in the Guest Hall. Lessons started at 9.30 am until 12.25 pm and then from 1.45 pm to 3.45 pm. There were coal fires in many of the classrooms and one of the girls' chores was to get up early to light these. The main focus of the School was The Guest Hall, with its walls covered with the skins and heads of wild animals. This big hall was used for prayers each day and for all big assemblies. The Armoury became the School's Common Room, where girls spent their free time. Meals were taken in the former Servants' Hall and homework done in the former Servants' Dining Hall. In the basement were the bathrooms, where the girls bathed twice a week with fortnightly hair-washing. The white-tiled, heated, underground kitchen tunnel served as an air-raid shelter for the whole school and the Percy flag flew when the Duchess visited.
There were three different Headmistresses in place over the four years of Castle boarding: Dr Yates, Miss Jackson (who was killed in a car crash with an army lorry) and Miss Joslin.
As well as this special occasion for former pupils, on the same day (Thursday 7th May), Alnwick Castle is also planning a large event for schools to celebrate the nationwide VE Day 75th Anniversary commemorations. The celebrations will extend into the weekend for day visitors.
The events will involve hands-on workshops, entertaining activities and interactive performances arranged especially for children, as well as adults, to guide them through the life and times of ordinary people and soldiers during World War II. Alnwick Castle and the important part it played in the war effort will also be highlighted.
So if you were at school at Alnwick Castle during the Second World War, or have a relative who was, then please get in touch with *Daniel Watkins, State Rooms Manager at Alnwick Castle on 01665 511 114 or at daniel.watkins@alnwickcastle.com to find out more and arrange your visit. Alternatively, Daniel's postal address is Daniel Watkins, Alnwick Castle, Alnwick, Northumberland, NE66 INQ.
VEDay75 in May 2020 is a three-day national and international event that is set to be one of the biggest commemorations of the end of World War II in Europe. Tens of thousands of people across the UK and Europe will be taking part from 8th to 10th May 2020 in a whole range of inclusive events.
Newcastle Church High School joined with Newcastle Central High School for Girls in 2014 and became Newcastle High School for Girls. More information on the school at: https://newcastlehigh.gdst.net/
As for Alnwick Castle today – it has transformed itself into a magical place of mystery, enchantment and enjoyment - where fantastical fun, hot-blooded history and amazing adventures all meet to offer exciting and enlightening days out for all ages. The Castle opens its great doors to the public for 2020 on 27th March 2020.All activities here (from broomstick training to film location tours, dragon slaying and magnificent state room tours) are free with admission and if you pay to visit once (and retain your ticket), you can return free for a full 12 months! For more information on Alnwick Castle, visit: https://alnwickcastle.com
If you are a Visit Heritage member you can read more about heritage during the war in our upcoming edition of Time Traveller, due out in May.
Find out more about membership here: Membership
Find out more about past Time Traveller Magazine here: Visit Heritage Shop
Related
0 Comments