Children aged 5 to 13 years are invited to take part in Leeds Castle's BIG Story Writing Challenge by writing an original fictional story of no more than 900 words.
Get creative with this year's theme of 'One Golden Day'. Put on your royal thinking crowns and use this golden theme to inspire you to write about anything at all, with a unique title – the more imaginative the better! Your story could be set in the past, present or future and can include anything or anyone fictional or real!
This year's theme is inspired by an event that took place 500 years ago in 1520 when Henry VIII stayed at Leeds Castle with 5,000 of his courtiers. He was on his way to meet the King of France for a massive jamboree that has since become known as 'The Field of Cloth of Gold'.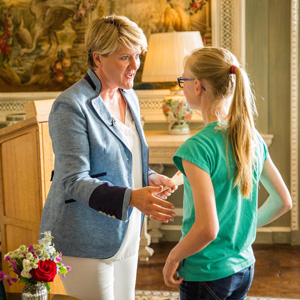 Your chance to WIN some great prizes!
The 20 talented finalists are invited to join Clare Balding in the Castle for the Grand Awards Ceremony on 29th May 2020. The overall winners from each age group will be announced on this very special day.
The winning story from each category will WIN:
• A stay at Knight's Glamping
• Tickets to the Fireworks Spectacular 2020
• A hamper of fun prizes
• The full collection of Clare Balding's children's books
• Publication of the top stories on 'Fonetti' – the world's first listening book shop.
The closing date for entries is 6th March 2020 at 11.59pm.
For more information and to enter visit https://www.leeds-castle.com/Education/Big+Story+Writing+Challenge
Related
0 Comments