It's exam revision time in our house so I escaped to London; I might have been in Manhattan for the number of Yankee accents around. London is full of Americans! It's the cheap pound I suppose, but goodness knows what they are all doing in London when they should be out looking at American heritage all around Britain. I thought it might help if I gave them a few ideas of how to trace some of their own history right here in the UK.
SHERBORNE CASTLE: Smoking Hero
Let's start at the very beginning. I love all those Victorian history stories about the gallant Walter Raleigh throwing his cloak over a puddle so Queen Elizabeth wouldn't get her feet wet, or finding a servant tossing water over him as he sat smoking his new-fangled tobacco because it looked as if he was on fire. He was always an adventurer and made history by founding the first British colony in America. His settlement at Roanoke in Virginia (named for his sovereign, the Virgin Queen Elizabeth) soon just disappeared; it was another two decades before another colony discovered that tobacco grew like a weed and started an economy. Raleigh had just finished his grand new house at Sherborne Castle in Dorset in 1594 when he funded another adventure to America in search of gold. The castle at Sherborne still has a feel of the old rascal, particularly in the panelled hush of Raleigh's Parlour. It must have been just the place for a smoke, I feel.
---
KIPLIN HALL: North or South?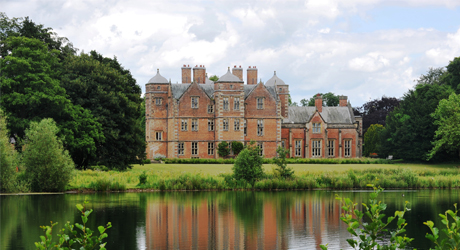 Funding risky adventures in America seems to have been something you found time for when you were out of favour at court. Just as it had been true for Sir Walter Raleigh so it was a few years later for George Calvert of Kiplin Hall in Yorkshire. Calvert backed the wrong Princess in the negotiations for the marriage of the young Charles I and, now enobled as Lord Baltimore, purchased land for a new colony of Avalon in 1620 in the chilly North of modern Newfoundland. He got there himself in 1627 and realised that if winter lasted until May, there was little hope of a tobacco crop so he started a petition for a new colony further South. The land was granted in 1632, just after Calvert's death, and the successful colony of Maryland founded. The portrait of Calvert at Kiplin by Daniel Mytens is a copy of one that now hangs in Baltimore, Maryland and a rare letter by Calvert has recently been added to the Kiplin collection. The house is just what a smart rising diplomat at the court of James I would need; a tall brick house with a long gallery and a fine collection of portraits of his Stuart contemporaries.
---
SYON PARK: Pocahontas' Short Break
Princess Pocahontas is a vital part of America's foundation story. Not the singing Disney one, of course, but the real one, a clever, adaptable and fascinating woman. Syon Park is the perfect place to remember Pocahontas, even my daughter might get her facts right and forget the cute Disney racoon! Pocahontas spent the winter of 1616/7 living near Syon with her husband, the successful tobacco planter John Rolfe. Syon is the home of the Duke of Northumberland and the 9th Duke's younger brother George Percy was one of the first settlers in Virginia and would have known Pocahontas, or Mistress Rebecca Rolfe as she now was, so it was probably he who suggested Syon as a desirable spot. The gorgeous Robert Adam house at Syon is later than Pocahontas; she'd have seen a towered Renaissance palace that had been built in 1552 by an earlier owner, Protector Somerset, but I think you can stlll imagine how the Indian princess would have felt when she saw the grandeur of this great English country house by the Thames. Pocahontas, of course, never made it home to Virginia, dying en route at Gravesend in 1617.
---
FIRLE PLACE: Engaging the Colonists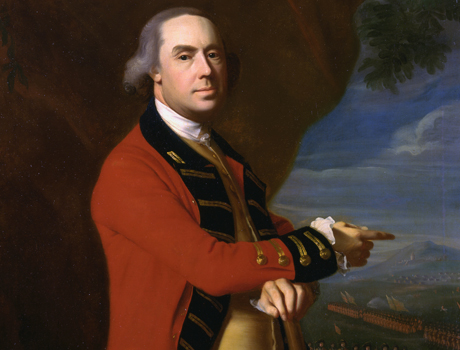 No true American patriot should miss Firle Place, the home of the Gage family. There is a Tudor mansion at the heart of this now mostly Georgian house, the childhood home of General Thomas Gage, Commander in Chief of the British forces in North America until 1775. Unluckily for him, he was in charge during the first skirmishes of the War of Independence which followed the Boston Tea Party. Gage was removed as commander after the British victory at Bunker Hill. It was the first formal engagement of the war and though British arms prevailed, the casualty list of over 1,000 (twice as many as the Colonists) frightened the Government in London and presaged what was to come. Firle was inherited by Thomas' son Henry, 3rd Viscount Gage who, finding himself one of the richest men in England, refurnished his house and continued his uncle's collection of pictures so that today Firle has an outstanding collection of art and furniture.
---
SULGRAVE MANOR: The Washington Tribe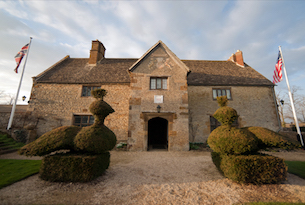 While old families like the Gages of Firle Place who refused to convert to Catholicism suffered hard times in the 16th and 17th centuries, the new Protestant gentry who emerged after the Reformation made good. One of these was Lawrence Washington, up and coming wool merchant, Mayor of Northampton and new owner of the lands of St Andrew's Priory where he built a fine stone house and called it Sulgrave Manor. The house remained in the Washington family until 1656 and the family coat of arms over the doorway shows you exactly where the stars and stripes of the US flag come from; contemporary ones are usually flapping merrily on flagpoles flanking the house. The original house of the 1540s is still here though it has been played around with a bit in later times but the Great Hall is full of atmosphere. It was John Washington who emigrated to Virginia in 1656 and became the great-grandfather of founding father George Washington; so this is where to trace the beginnings of the dynasty. Ironically, George Washington's reputation as a military man of mark were secured in an infamous retreat at Monongahela in West Virginia when British troops led by Thomas Gage (see above) were surprised by the French. Small world!
---
DYRHAM PARK NT: Transatlantic trade
It wasn't just soldiers who contributed to the birth of America. William Blaythwayt was an exceptionally able civil servant who rose from relative obscurity to high government office, ending up by pretty well inventing the War Office. In the 1680s he was in charge of revenue and trade in the new colonies of America and was a key figure in early American affairs. With power came perks and he wasn't shy about spending his fortune, rebuilding his wife's house at Dyrham Park in Gloucestershire to create one of the grandest Baroque mansions in the land. He even employed William Talman, the Duke of Devonshire's architect at Chatsworth, to give the house the required architectural flourishes. Intriguingly, it was his network of international contacts that make the project interesting. We know that he imported wood from the Governor of Maryland – the Cedar staircase designed by Talman in 1698 has walnut treads and cedar balustrades from America. Clearly nothing was too good. It's fun to see the re-created 17th century rooms of Mr Blaythwayt's apartment at Dyrham organised today by the National Trust.
---
Blenheim Palace: Millionaires & Prime Ministers
Of course, Blenheim has to be on every American tour of Britain. It's where Winston Churchill was born for a start and the new Churchill exhibition and Memorial Garden mean you can't miss him – you can even Walk in Churchill's Footsteps. Less obvious are the American women of Blenheim, and this great house would not be as it is today without them. First came Lily Warren Price, a real estate heiress, whose second marriage in 1844 to Charles Spencer-Churchill made her Duchess of Marlborough. He quickly spent her money restoring his house and after his death she sued her stepson the 9th Duke to get it back. This stepson, the 9th Duke of Marlborough solved his financial problems by marrying the railroad heiress Consuelo Vanderbilt. Consuelo was famously beautiful, famously loved by all except her husband and famously unhappy. They separated in the 1890s and the Duke moved his mistress, another American, Gladys Deacon, into Blenheim instead. Without the Price and Vanderbilt fortunes, the World Heritage Site and baroque masterpiece that is Blenheim would look a lot less magnificent than it does today. The last important American is Jennie Jerome, Lady Randolph Churchill, mother of Winston who gave birth to the future war time Prime Minister rather unexpectedly while on a visit to Blenheim.
---
FLOORS CASTLE: Time for the tapestries
All those tourists pouring into Edinburgh Castle should look a little south and take themselves to Floors Castle in the wake of another American heiress. May Goelet had a $20 million fortune to rival Consuelo Vanderbilt's derived from her grandfather's real estate holdings in New York. Marrying the 8th Duke of Roxburghe in 1903 she found herself living in what is now the largest inhabited castle in Scotland, a William Burn house of the 1720s embellished with a mass of pinnacles & turrets by William Playfair in 1849. Clearly there was lots of space to fill and Mary made the most of it, bringing her family collection of 18th century French furniture rich with ormolu and inlay, Chinese and European porcelain and both Brussels and a rare set of 17th century Gobelins tapestries. It makes Floors one of the great treasure houses of Scotland and it's nice to know that unlike Consuelo, May's marriage was happy and she and the Duke remained devoted for over thirty years.
---
HEVER CASTLE: Totally Tudor?
I don't like to be vulgar and harp on about money but the Americans of what is known as the Gilded Age (roughly 1870 to 1900) did make a BIG difference to British heritage. Another fabulously wealthy American family made their mark at Hever Castle in Kent. William Waldorf Astor was disenchanted with the USA after his political career faltered so he decamped to London and bought a newspaper. In 1903 Astor bought Hever Castle in Kent, a small moated 13th century castle in need of a bit of TLC so he spent 5 years restoring what had been Anne Boleyn's family home and adding a sprawling Tudorbethan village and enviable Italianate gardens and landscape. Yet despite spending something like £10 million he paid attention to every detail and filled the house with treasures including the finest collection of Tudor portraits anywhere. You can stand in a room surrounded by all 6 of Henry VIII's wives, what a horror that would have been for him! Though the totally Tudor restoration Astor was aiming for was achieved at Hever, there is also a suite of rooms full of mementos which brings back the Astors time here in the Edwardian heyday of entertaining.
---
Lamb House NT: Jamesian bliss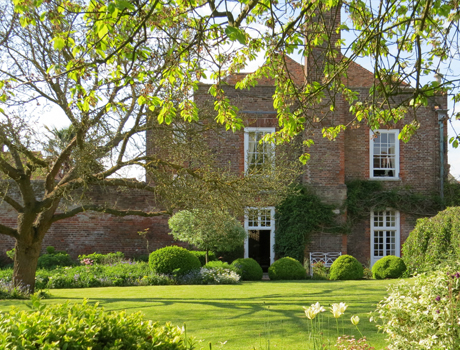 Finish your US/UK tour on a small scale at the delicious Georgian Lamb House in Rye and get your American literary fix. The great American author and anglophile Henry James was 55 when he took a 21 year lease in 1897 and settled down in this small brick townhouse, built by James Lamb in 1722. Here he wrote some of his finest novels, The Wings of the Dove, The Ambassadors and The Golden Bowl, dictating to his loyal secretary on a typewriter. The house is deceptively hushed today, but it turns out that there has always been quite a lot going on here. The builder was a successful wine merchant and when George I was shipwrecked just off the coast, it was the most suitable place for the King to come and dry out. Poor James Lamb had to give up his bed to the King but at least his immortality was assured by attaching his name to the house. It changed hands several times, Henry James bought it from an ironmonger, but more recently its literary heritage was assured. After James' death the house was sold to E F Benson of the Mapp & Lucia novels and local romantic novelist Rumer Godden also lived here, as did various other writers and literary folk. Sensibly the National Trust sell books so you can really get into the vibe, last time I was here I bought a copy of Miss Mapp, settled Walpole at my feet (he was a bit disconcerted that James' dogs are buried in the garden) and read for half an hour under the cherry tree. Bliss!
---

Related
0 Comments