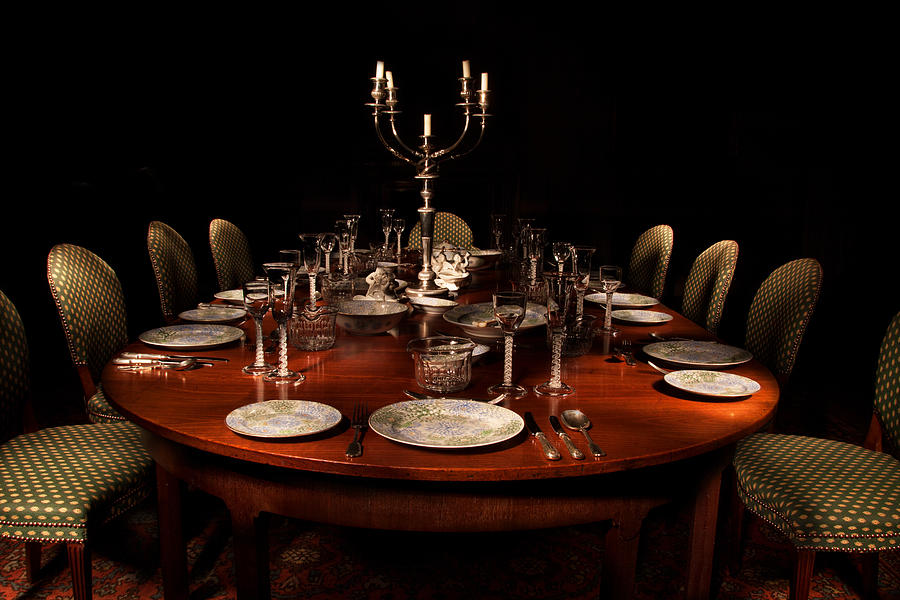 I've just googled Chippendale and been offered a choice of mahogany-tanned young men in the buff. Tsk! I wanted Thomas Chippendale, Britain's most celebrated furniture maker, not The Chippendales in their teeny weeny shorts. Buffed in a different way, perhaps. This Chippendale was born 300 years ago this year into a Britain awash with exotic hardwoods from all over the world where gentlemen were building fine country houses to show off the treasures they brought home from the Continent. They needed high quality furnishings to match and Chippendale was their craftsman of choice. When he published his catalogue, The Gentleman and Cabinet Maker's Director in 1754, sharing his radical designs, his fame was assured. I've learned that stopping for a minute and looking at the detail and balance of a Chippendale piece is far from dull. He gathered all the wit and invention of the era to make show-stopping furniture which is well worth the study. Here are my top ten places to see it (you'll need a train ticket to Yorkshire).
The Family Bedroom, Dumfries House, Dumfries & Galloway
The bedroom of the 5th Earl of Dumfries at his new house is very much as it was when he woke up one morning in about 1760 to admire the new furnishings by Thomas Chippendale. He'd have found himself in a flamboyant blue silk damask four-poster bed, the single item on which he lavished the most cash in his new house. It cost £100 – around £14,000 in today's money – and was the centrepiece of a room for which Chippendale had also designed a gilt Rococo overmantel and another masterpiece item, the rosewood bookcase which now occupies a prime spot in the Blue Drawing Room. Obvious then, that this was not a private room. The Earl needed to make the most of the opportunity to show off his wealth and taste by ordering the best in the latest Rococo fashion. In furniture, shortly after the publication of his best-selling Director, this meant Chippendale. By now the Earl's wife and son had died and, at the age of 60, he needed new ones fast to be sure of an heir for his new house. His strategy apparently worked because in 1762 he married his cousin, Anne Duff. Obviously, the magnificence of the bedroom was too much to resist.
---
The Gallery, Harewood House, Yorkshire
The Lascelles family at Harewood House are still great patrons of the arts and Edwin Lascelles, 1st Baron Harewood started the trend when he commissioned a grand new house from neo-classical architect Robert Adam in 1759. Adam worked with some of the greatest craftsmen of the age including Thomas Chippendale, whose furniture, now in neo-classical rather than Rococo style, brings inestimable quality to the interiors. Chippendale was a local lad, born less than 10 miles away at Otley, though by this date he had set up his own workshops in London. My favourite of his interiors at Harewood is the Gallery. For this magnificent room Chippendale provided mirrors decorated with oval paintings by Angelica Kaufmann and the chubbiest gilded cherubs, gilded torchéres to throw light onto Adam's ceiling decoration, elegant chairs and sofas and, best of all, pelmets for the windows, carved and gilded in a perfect rendition of drapery. I was totally convinced but amazingly, it is all made of wood.
---
The Writing Desk, Temple Newsam, Yorkshire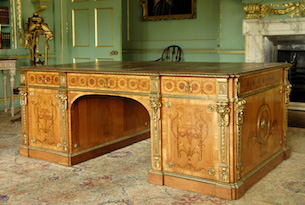 The Jacobean house at Temple Newsam is where the Chippendale Society keeps its own collection of documents and top quality Chippendale furniture. Unlike other places on my list, the furniture was not made for the house and is not part of a designed interior scheme but still you should not miss some pre-eminent examples of Chippendale's art. I'd pick the Writing Desk originally designed for the Library at Harewood House by Thomas Chippendale in 1771. This desk was designed to be stood in the centre of the room and admired from all sides; a central part of the decoration of the room. Chippendale uses marquetry in at least 8 different woods, employing neo-classical motifs and ormulu mounts on the corners. It came to Temple Newsam after a sale at Harewood in the 1960s.
---
The Chinoiserie Bedroom, Nostell Priory, Yorkshire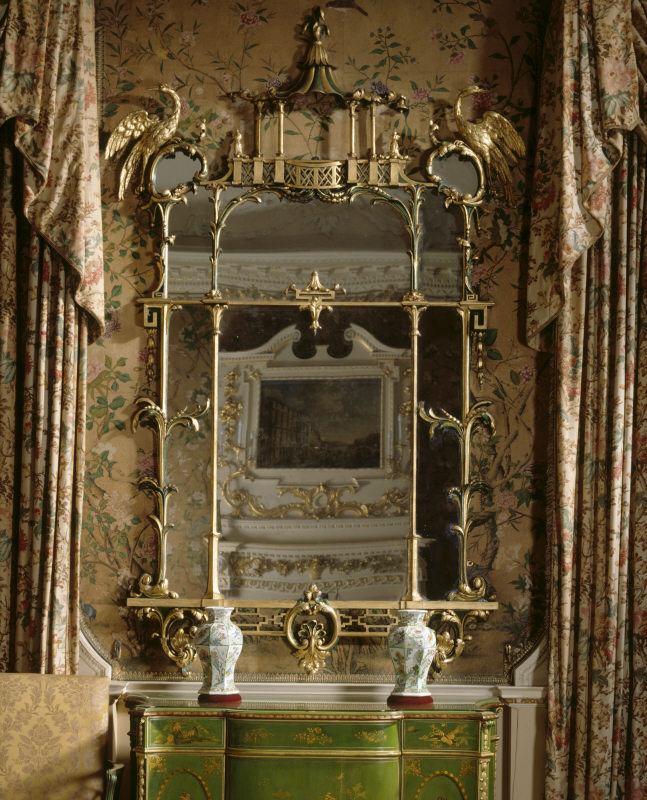 Sir Rowland Winn Bt of Nostell Priory was typical of Chippendale's clients in being terrible at paying his bills. After Thomas Chippendale's death, the firm, now run by his son who was also a superb furniture maker, went bust and closed in 1813. Chippendale created over 100 items of furniture for Sir Rowland's new house at Nostell Priory between 1966 and 1785 and had a hand in arrangements downstairs as well. When Sir Rowland was killed in a coaching accident, Chippendale's invoices were left unpaid and work at the house stopped. Nostell Priory is a great place to see the versatility of Chippendale's style, the house contains pieces in Rococo, Neo-classical, Chinoiserie and Gothic. I'd pick the furnishings for the State Bedroom in Chinoiserie style in a striking green and gold lacquer. The hand-painted Chinese wallpaper was all the rage in the 1760s and Chippendale's furniture adds a sublime edge of sophistication.
---
The Tapestry Room, Newby Hall, Yorkshire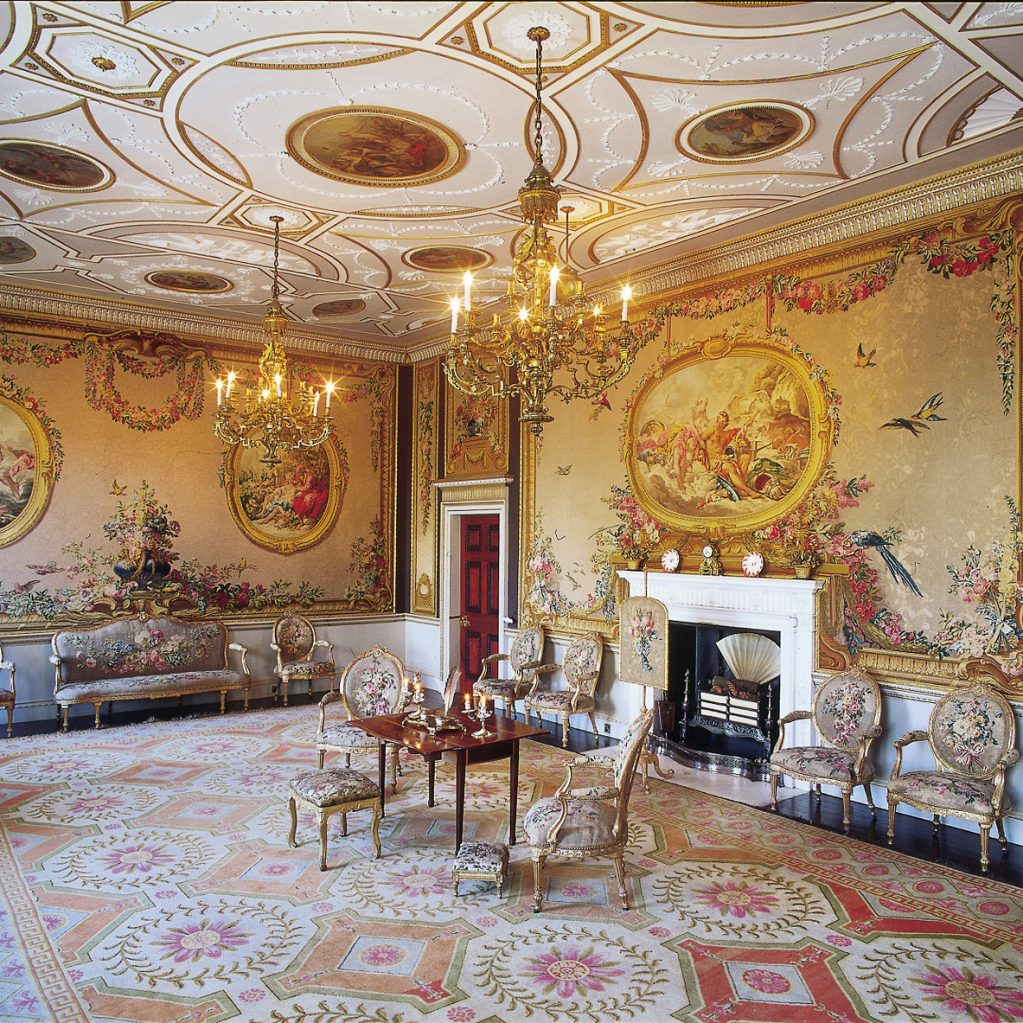 In total contrast is one of Chippendale's least altered interiors, The Tapestry Room at Newby Hall in Yorkshire. Grand Tourist William Weddell came back to Britain with trunks laden with souvenirs of his travels in Europe. In Paris in 1763 he had commissioned some fabulous tapestries from the famous Gobelins tapestry works. He set about creating a sitting room from the old entrance hall, especially to house his new treasures. This room is lush; gorgeously pink with unabashedly romantic scenes taken from designs by painter François Boucher entitled 'Loves of the Gods'. They were delivered in 1967 and Chippendale was employed, again by architect Robert Adam, to design the furniture. The suites of chairs and settees were finished in 1776 and still retain their original matching upholstery, also provided by the Gobelins factory.
Visit this year for specialist tours exploring Chippendale's contribution to the interiors at Newby from June to September 2018
---
The Great Drawing Room, Burton Constable Hall, Yorkshire

This room was created because its owner, William Constable was ill and decided to give up his London house and move back to the country. He was a bit indecisive about who would design his new room and finally settled on James Wyatt as designer and Chippendale to make it happen. He'd already filled his London house with Chippendale pieces but in 1788 he put Chippendale in charge of realising Wyatt's vision. Using French glass and Italian marble, Chippendale created magnificent mirrors and side tables, adding carved pelmets, doorcases, girandoles for lighting and a suite of gilded furniture to stand at the sides of the room in keeping with Georgian fashion. These pieces are delicate and light, quite unlike the furnishings at Dumfries designed 25 years before and a gilded palm tree adds a touch of humour.
Chippendale and the Yorkshire Craftsmen is a special exhibition at Burton Constable for summer 2018 featuring original drawings, bills and letters and expert-led tours and talks.
---
The Panshanger Cabinets, Firle Place, Sussex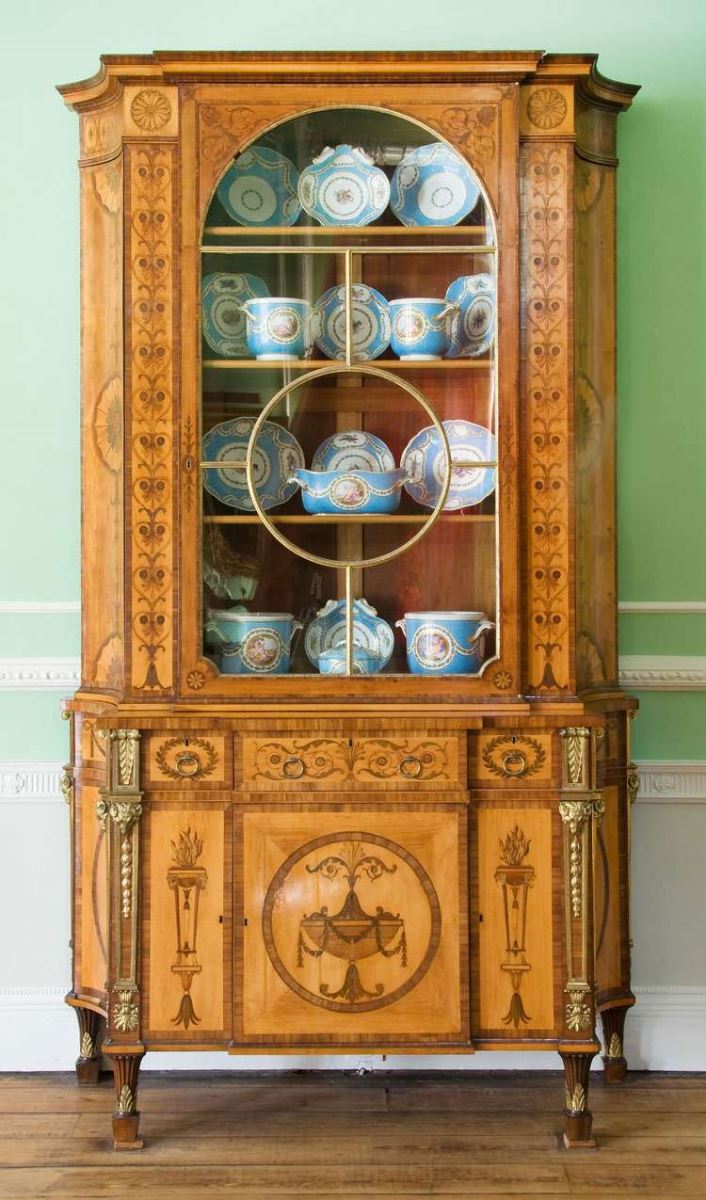 In the 1770s, Chippendale was working with another architect, Sir William Chambers on interiors for the London house of the newly enobled Sir Penistone Lamb, Lord Melbourne. Part of an exquisite suite of furniture, designed for the Dining Room at Melbourne House, has been inherited by the Gage family at Firle Place in Sussex through the Desboroughs of Panshanger. Look out for the Panshanger Cabinets in the Drawing Room at Firle, they are displaying fine French porcelain as they may always have done, or they may once have been used to display books. The cabinets have many familiar features of neo-classical Chippendale furniture, ormulu mounts and complex marquetry and these, in particular, are covered in decoration. Once again these are virtuoso pieces of furniture from the Chippendale workshop which quite happily work as stand alone pieces of art.
---
The Renishaw Commode, Renishaw Hall, Derbyshire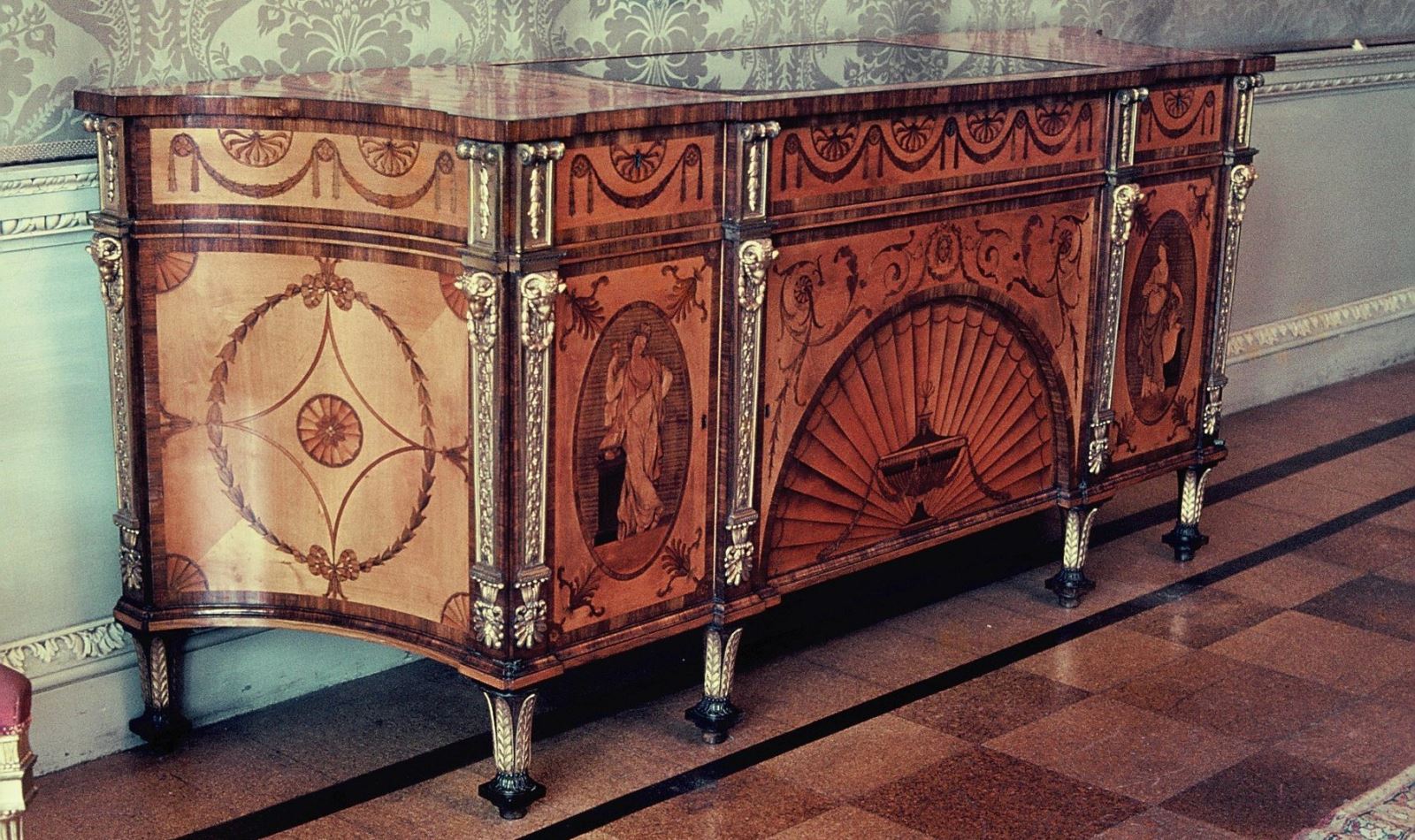 If the Panshanger Cabinets do it for you, you might want to pop in to see a Chippendale sideboard at Renishaw Hall which may have been a companion piece. The Renishaw Commode was probably bought in London by Sir Sitwell Sitwell in 1802 when the contents of Melbourne House were sold off. If so it may be the one that Chippendale originally sold for a staggering £140 – perhaps £18,000 today. Like the Firle pieces, its marquetry is wonderfully complex and decorative and it has similar ormulu mounts. Today it is faded to a pleasing symphony of golden browns but scholars think that the original colours of the woods would have been quite contrastingly bright. Intriguingly, it has a mirror set into the top surface. What for? Maybe to reflect the base of a treasured piece of porcelain or silver. Today the cabinet sits below Sir John Singer Sargent's great family portrait of the Sitwell family painted in 1900 with the cabinet depicted centre-stage.
---
Entrance Hall, Weston Park, Shropshire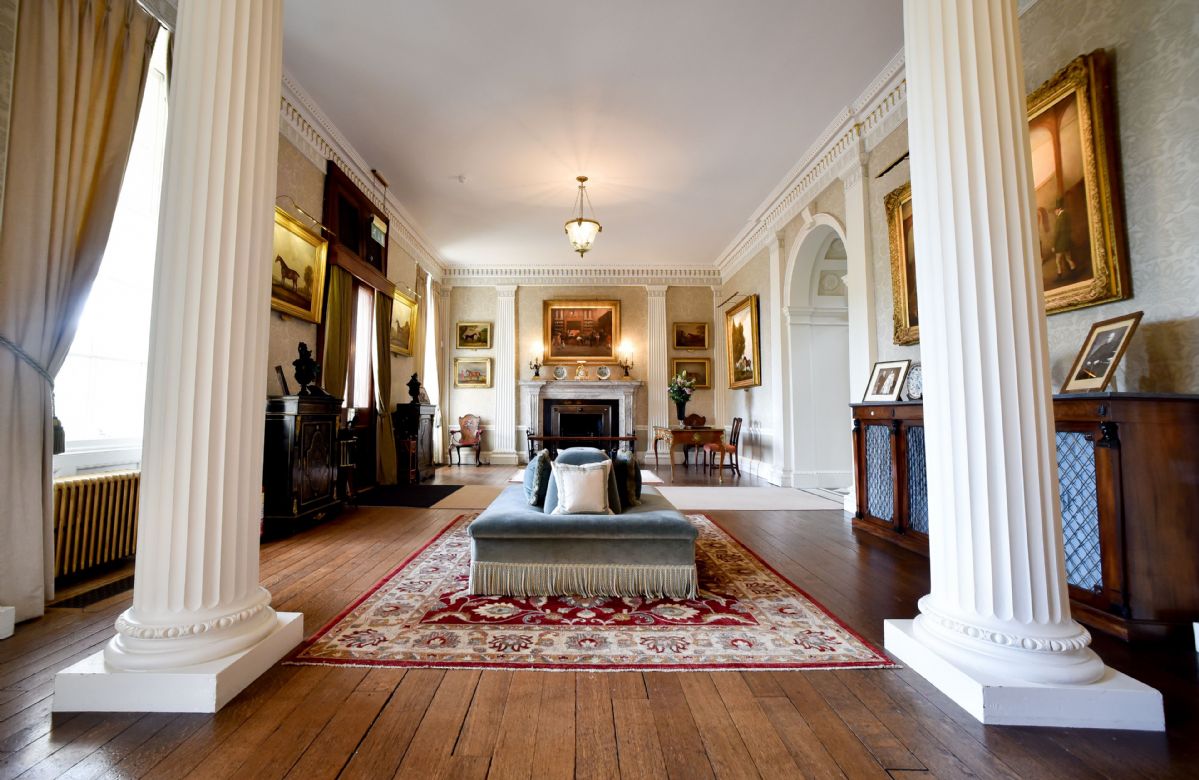 There is an exhibition at Weston Park in Shropshire this year (30 March – 2 September) exploring the taste of Sir Henry and Lady Bridgeman who brought to the house works by many of the great names of British craftsmanship in the 18th century including Wedgewood, Stubbs, Constable, Reynolds and, yes, Chippendale. The set of 12 finely carved chairs in the Entrance Hall are certainly from Thomas Chippendale's workshop although the receipts have not survived. A clue might be that until recently the Library at Weston Park contained a first edition of Chippendale's Director of 1754. The chairs are painted with their owner's coat of arms, hastily overpainted with a new one when he was given a better title and became a peer in 1800. There are similar chairs at Nostell Priory and at Harewood House and experts are sure these chairs are Chippendale's work. They are a good example to show how difficult it is to be sure since the publication of the Director meant that the great cabinetmaker's work was widely copied. You really need the receipt to prove it was designed by the master.
---
The Dining Room, Paxton House, Borders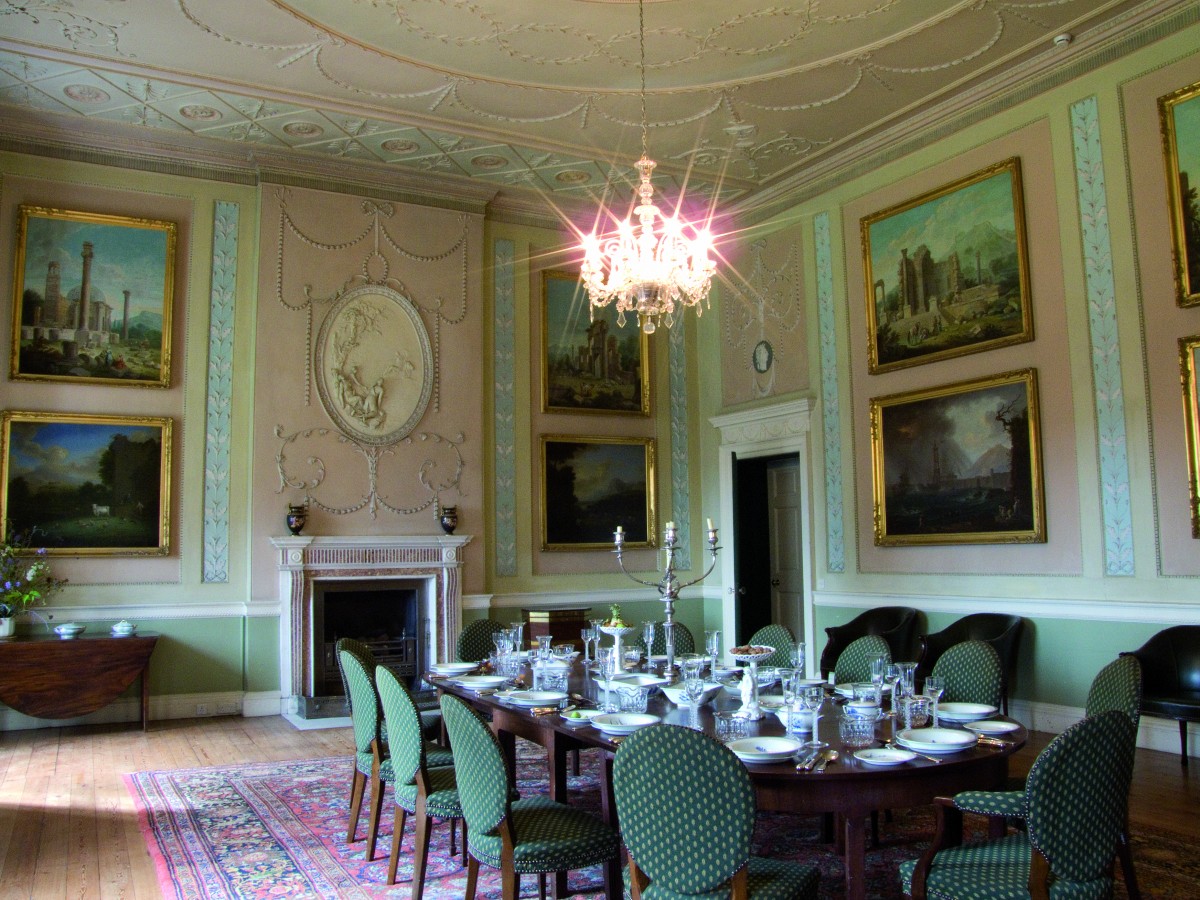 The 'neat but not expensive manner" in which Ninian Home wanted Thomas Chippendale to decorate Paxton House resulted in a highly decorative scheme using neoclassical motifs and imported hardwoods for furnishings in all the main rooms. Chippendale was working here between the early 1770s and the early 1790s and his original designs haven't changed much in the intervening years. The Dining Room has a ceiling design by Robert Adam but the rest of the decoration, including the plasterwork detail, was all the work of the Chippendale workshops. For this room, they designed all the furniture, mirrors and soft furnishings and ordered hand-made French wallpaper to give the finishing touch. Poor Ninian Home didn't live to enjoy his finished rooms as he was killed in an uprising on one of his sugar plantations in Grenada in 1795. Another of Chippendale's clients cut off in his prime and not likely to pay his bills. He did however leave all the receipts for Chippendale's work in good order at the house. There is an exhibition The Paxton Style: Neat & Substantially Good running until 28 August with loan objects from national museum collections.
Do look out for special exhibitions celebrating Chippendale's birthday all through 2018. The biggest is 'A Celebration of Craftsmanship and Design' at Leeds City Museum until 9 June. The National Trust are launching 'Chippendale Revealed' – an online exhibition of photographs to run through the summer.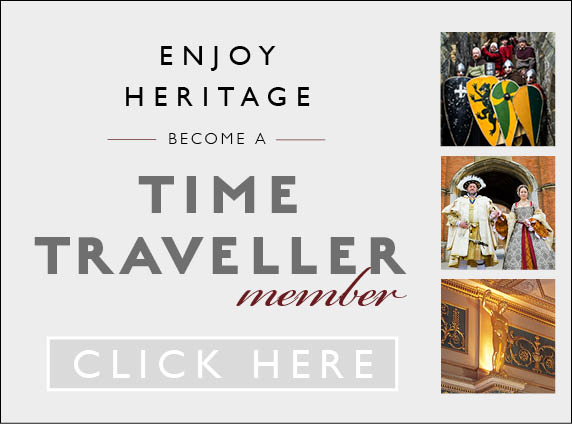 Related
0 Comments