Alnwick Castle off to a flying start on 29 March 2018
20th March 2018
Categories: Latest News
10 amazing activities you can enjoy at Alnwick over Easter (and that's not nearly all!)
Alnwick Castle in Northumberland is thrilled to opens its great doors to day visitors again on Thursday 29 March 2018 - just in time to get your Easter holidays off to a fantastical flying start! The Castle will be open every day from 10am to 5.30pm until 28 October 2018.
All sorts of amazing, magical activities to suit all ages will be taking place here throughout the holidays and beyond. And true to form, the Castle will have some very surprising and exciting new activity announcements to make over the coming weeks, so watch out on the website!
If you visit once, you can visit again free for a whole year here! Just keep your ticket safe (remember to validate your tickets as free, day tickets need to be validated on the original day to permit re-entry).
Here are 10 fantastic activities all ages can enjoy at Alnwick Castle over Easter (and that's not nearly all!)
1. Broomstick training is offered at regular intervals throughout the day (in the exact spot where Harry Potter received lessons in the film) and visitors can now book a time slot of their choice.
2. You can also join highly popular 'On Location' tours, where knowledgeable guides show you where famous scenes were filmed and divulge insider secrets of films and TV series shot at the Castle, including Downton Abbey; Harry Potter and the Philosopher's Stone; Harry Potter and the Chamber of Secrets; Transformers the movie; The Hollow Crown and more.
3. Nothing is very serious for long at Alnwick Castle and Peterkin the Jester will be have you thoroughly entertained from Wednesday 4 April to Friday 6 April. Whether toppling on stilts, fire-eating or balancing upside down on anyone he can trick into lying down, you won't be able to miss him – or his trumpet!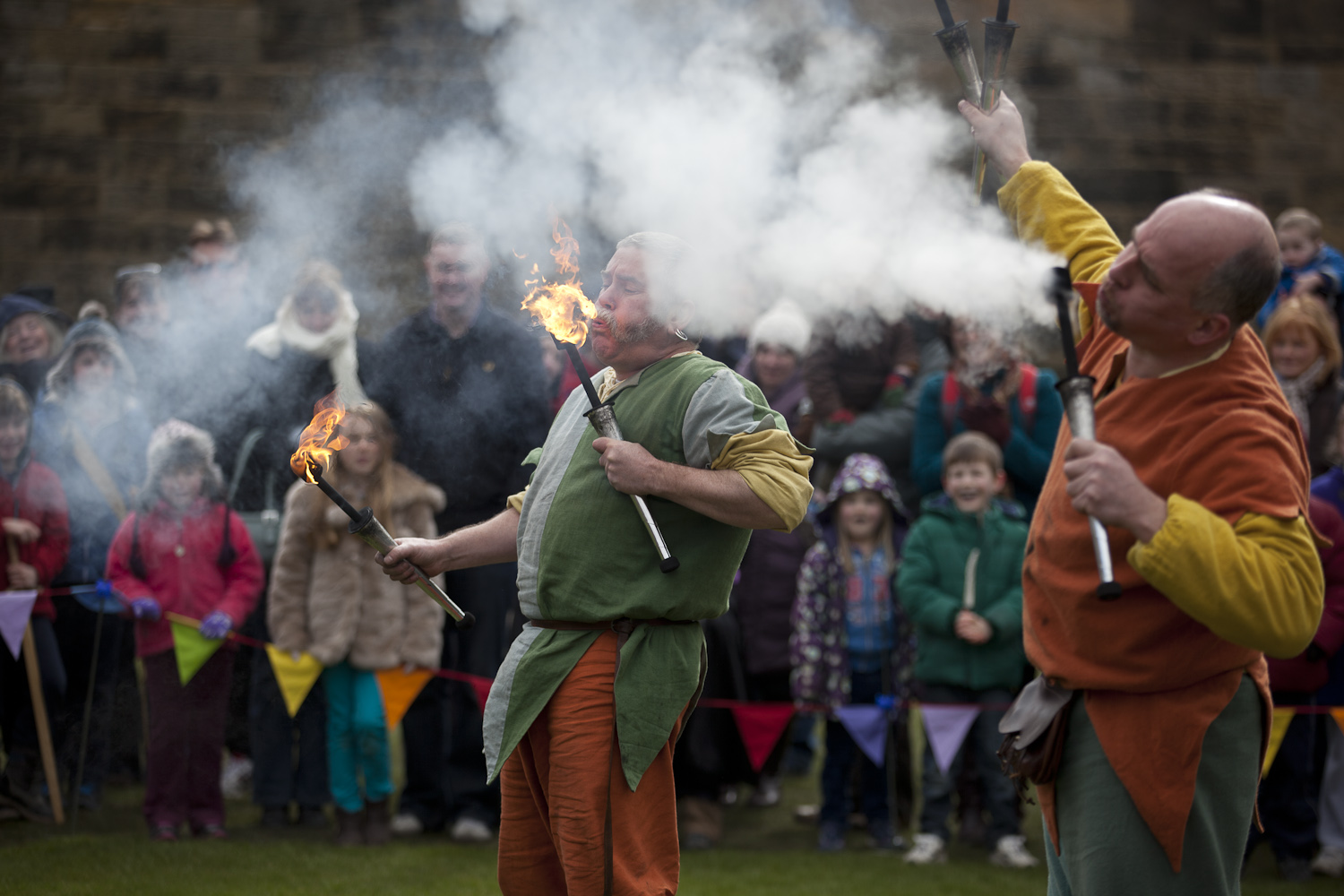 4. There's hubble, bubble and lots of trouble with Alchemy Jack, alias Dr John Greene, at Alnwick Castle over Easter from 30 March to 3 April. With his mysterious medicines and peculiar potions, along with smoke, flames and all manner of magic, he's sure to cast a spell over the crowd – but will he be able to turn dragon's blood into gold? Or can he blow up Artisans Courtyard? The 9th Earl of Northumberland (1585-1632) was particularly fascinated by alchemy, the study of how to turn base materials into gold.
5. If you're a Harry Potter fan, there's a treat for you from Wednesday 4 April to Saturday 7 April when lookalike characters inspired from the films will be mingling with the crowds. Have your picture taken with Harry or Hermione!
6. Mystical birds of prey, as used by ancient wizards, will be swooping down on Alnwick Castle from Saturday 7 to Tuesday 10 April and you can find out more about their mysterious powers from their present-day owners, Raphael Falconry.
7. But it's not all murky and misty in this medieval world… Alnwick Castle's popular mediaeval jesters, Zooted, will be returning to wow the crowds with their unique mix of fire-eating, sword-juggling, comedy and trickery from Wednesday 11 to Saturday 14 April. Escape them if you can!
8. It's always great to have a souvenir to remember a special family day out – especially one you've made yourself - and there's plenty of opportunity here in Alnwick Castle's Artisans Courtyard to make all manner of marvellous medieval keepsakes – from beautiful illuminated manuscripts, to medieval tiles and soap. You can dress up for the occasion too - with over a hundred amazing costumes to choose from, for adults as well as children. Everyone can immerse themselves in the past by trying out dresses, capes and headgear of the medieval world.
10. Make sure you have some armour on for a meeting with Alnwick Castle's fearsome, fiery monster! Are you brave enough to enter the Dragon's Lair? Join forces with Harry Hotspur and the Dragon Catcher to battle mystical forces, conquer obstacles and come face to face with a terrifying dragon. During the holidays, you need to collect a free time-slot ticket from the costume cart in Artisans Courtyard. Dragon Quest is very popular so we recommend going straight here on arrival to collect your ticket.Alnwick Castle has stood on this same spot since the 1360s and the Castle has been the home of the famous Percy family for the same amount of time. To reflect this, and to bring the Castle's history to life, professional performers will be taking on the characters of well-known figures throughout the last 700 years and performing scenes from the past in the grounds throughout the Easter holidays.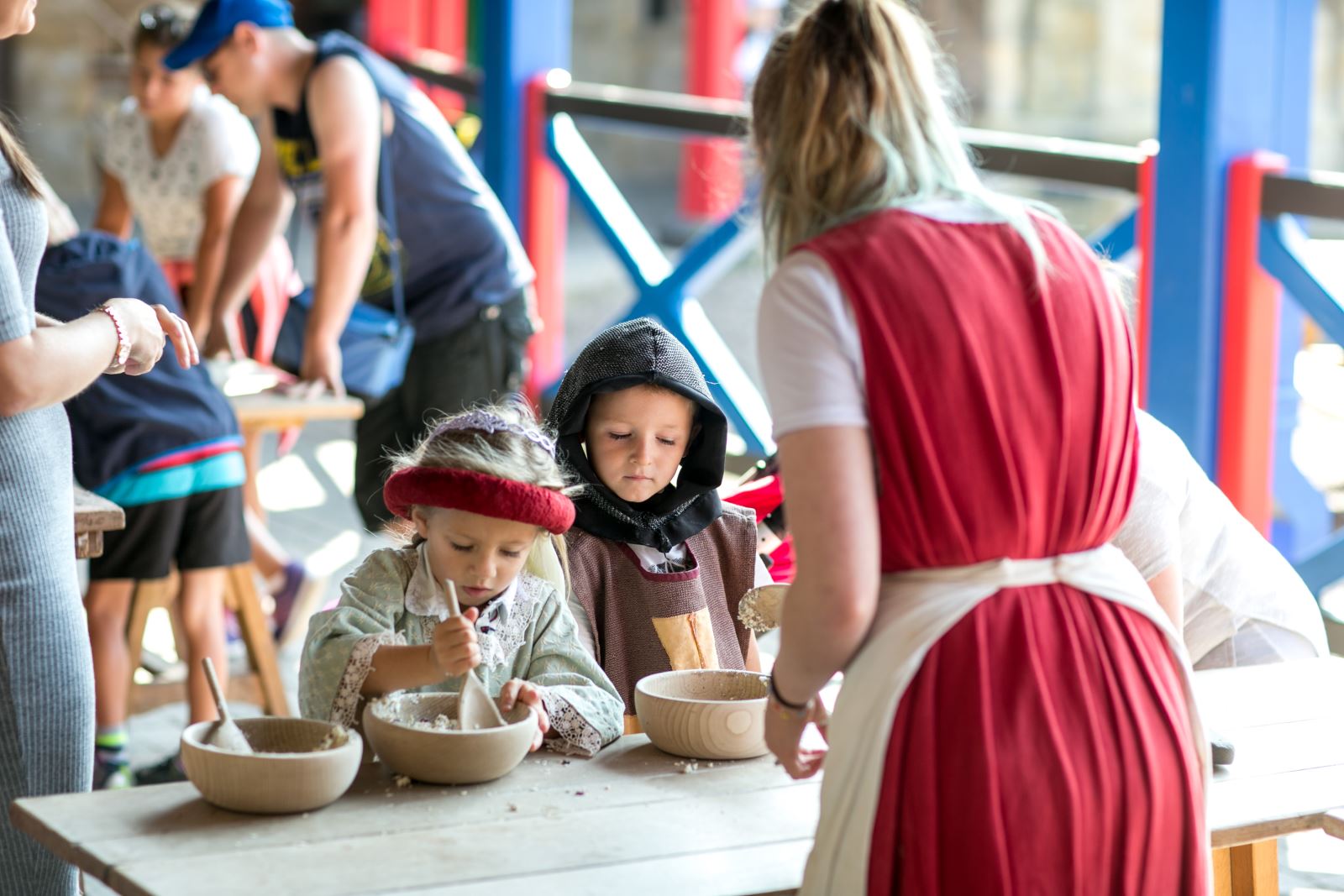 As well as these ten highlighted activities, there are lots more items of interest and events on offer here.
You can follow in the footsteps of many soldiers who have lived at Alnwick Castle over the centuries and try one of England's oldest skills. "Have a go Archery" takes place throughout the day and is available for a small charge of £3.50 for 8 arrows. This activity is weather dependent and for nine years and upwards*
Perhaps you're more interested in the culture and history of Alnwick Castle and the Percy family? If that's so, then it's all here for you too, over Easter. You can take a tour of the State Rooms and see the splendid furniture and beautiful paintings by famous world-renowned artists like Titian and Canaletto. State Room tours are term time only. Historical Grounds tours are daily.
Similarly, if you're captivated by the legendary Harry "Hotspur" Percy – swashbuckling ancestor of the Percy family, you can view a fascinating exhibition of Harry Hotspur, immortalised by Shakespeare in his history plays.
From alchemy and archery to magic, mirth and mystery, you can prepare to be spellbound by Alnwick Castle.
Head of Alnwick Castle Ventures, David Hawke says: "We've put together a great programme for 2018 and there are quite a few surprises to come – to be revealed shortly! Our teams go above and beyond to ensure all guests are given a truly fantastic experience. From the friendly welcome and the laughter and enjoyment of the fun activities, to the wonder and amazement of the tours, the history and the top-quality exhibitions, it's a day out like no other."
The Courtyard Café, the Stable Fryery and Courtyard Barbeque are available for delicious meals and refreshments and there are two well-stocked gift shops.
You can find out more at www.alnwickcastle.com or by calling 01665 511 100
*All activities at Alnwick Castle (apart from Have a Go Archery) are included in admission price